Top 5 Live Albums From The Jazz Collector Era?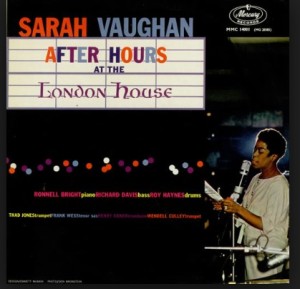 I was lying in bed at about 3:30 in the morning unable to sleep so I put some nice ballad music on my iTunes and the song "Detour Ahead" came on from the Sarah Vaughan album After Hours At the London House and I thought to myself, gee, that is one of my favorite live albums of all time. It's great music and there's those outtakes on "Thanks for the Memory" and the whole concept was quite unusual, setting up a live recording date at a club in the wee small hours of the morning and inviting other musicians who had finished up their gigs to make up a large portion of the audience. And then, still unable to sleep, my mind started racing through its database of jazz records to come up with my favorite live recordings and the next thing I know it's 4:30 in the morning and I'm still not asleep. But at least I have an interesting post for Jazz Collector, and that is my list of favorite live jazz albums. I decided to take the Sarah record off the list and just concentrate on instrumental records. Perhaps I'll do the vocals at a later date. Meanwhile, I offer for your perusal:
1. Bill Evans, Waltz For Debby. What can I say, one of my very favorite albums of all time. Having seen Evans many, many times in the late 1960s and through the 1970s, this album captures him extraordinarily well, and it is also very well recorded.
2. Cannonball Adderley, Live at the Lighthouse. Had a hard time choosing between this and the Live in San Francisco album (didn't want to include two albums from the same artist on this short list), but this was the album that really opened my eyes to jazz with the opening "Sack O' Woe" so it will always have a special place in my heart.
3. Roland Kirk, Volunteered Slavery. Kirk was one of my favorite musicians and an incredibly dynamic live performer. I never felt any of his albums, live or studio, captured the excitement and skill of his playing, other than the live Newport side on this record. I can listen to this record and picture him clearly, even after all of these years. And the sax playing on his tribute to Trane is impressive as hell.
4. John Coltrane, Live at Birdland. Alas, I never saw Trane so I missed a big opportunity. This album is also dynamic and exciting and full of bravura, particularly the side with "Afro Blue" and "I Want to Talk About You," which features a great long cadenza.
5. Horace Silver, Doin' the Thing at the Village Gate. I realized I had made it this far without including a single Blue Note record and they released so many extraordinary live albums, including the various Blakeys and the Rollins at the Vanguard and the Kenny Dorhams at the Bohemia. I chose this one because it's a personal favorite and it really captures the Blue Note sound and feel.
I found it interesting, as I was lying there in the middle night and typing this in the morning, that I could come up with many live Blue Note recordings, but only one on Prestige — Red Garland at the Prelude. Am I missing something else on Prestige? Was Prestige too cheap to do live recordings?
Anyway, curious, as always, to hear your own favorite live jazz recordings.