What Happened To The Jazz Vinyl Countdown?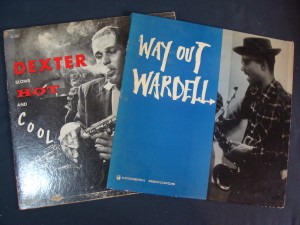 In an earlier post, Rudolf poses the following statement and question: "Al announced the slimming down of his collection a while ago. But I don't see anything else but buying records by the lot, 'improving' on quality, etc., etc. Al: I just would like an honest reply to my straightforward question (the lovely Mrs. JC is not tuned in, so your reply can be honest). The question: With how many albums has your collection grown since your slimming down action?"
Ahem.
I will answer the question directly and then go into some level of explanation. Since the launch of what I affectionately called The Great Jazz Vinyl Countdown almost exactly a year ago – September 29, 2009, if anyone would like to go back to the archives – I would say that my "collection" has increased by about 50 records, while the number of records in my house has grown by several hundred, at least.
I distinguish between my collection and the number of records I own because I still have intent to get rid of many records, but I also realize that in the past year I have added records to my collection that I did not previously own. For example: A few weeks ago I received a call from a lady who knew an older guy who lived in Coney Island and he had some old records and he was not on the Internet and could I help this guy possibly get rid of his records. So I called the guy and he said he had a bunch of old jazz records from Duke Ellington, Benny Goodman and Count Basie. I'm thinking, nah, not even worth the trip to Coney Island. Then he mentions Wardell Gray and all I can see in my mind's eye are the two Prestiges and the next thing I know I'm on the Belt Parkway heading toward Coney Island. He had about 60 records, mostly junk, except . . . the Wardell Gray was an original pressing of Way Out Wardell on Modern Records, which I didn't own, and there was an early pressing of Dexter Blows Hot and Cool on Dootone, which I didn't own, and several others and all of a sudden there are a few more records in my collection.
Anyway.
The idea of The Great Jazz Vinyl Countdown was to stop buying and start selling. However, several things have happened in the interim:
For a while I was selling records consistently on eBay – 30 records or so every week, like clockwork. But then my real business – I'm doing a lot of corporate consulting and what I call corporate writing – suddenly took off and there was no time or energy for selling records on eBay. So that stopped in March and I haven't been back.
The other thing that happened is that Jazz Collector starting getting more traffic and higher rankings on Google and I'm getting calls all the time – such as the one with the Coney Island records – to help people sell or evaluate their collections. There was the guy in New York who was moving to California and he had 600 records to sell and he was in a rush and I offered him $800 and suddenly I had 600 more records in my house.
I do, however, have hope for at least getting back to where I started. I've signed up for the WFMU Record Fair next month, and I'm planning to bring at least 1,000 records or so. If I can get rid of 300 I would be thrilled. I also have a bunch of records in storage I would love to sell in bulk for a low price. In fact, if anyone is interested, let me know. The records are here in Western Long Island and, as I said, I would let them go cheap just to get rid of them.
So, Rudolf, I hope that answers your question and I hope, perhaps, to someday get back to the Great Jazz Vinyl Countdown and actually count down rather than count up.