Rare Sonny Rollins & Kenny Dorham Available Here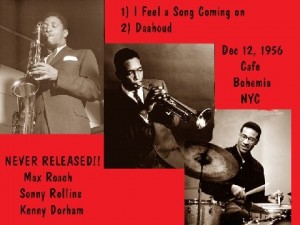 Okay, here's an interesting one for you. Back in the early 1970s there was this this guy in New York who had a massive collection of audio tapes that he would record from radio broadcasts. For a while he would issue these tapes on bootleg LPs under a variety of names. I have at least a couple of dozen of these issues, under labels such as Alto Records and Ozone and Session Disk, by a large number of artists such as Miles Davis, John Coltrane, Bill Evans, Ella Fitzgerald, Coleman Hawkins and many others.
He also, apparently, had tapes that were never issued in any format — and we've discovered one of them here. Not only that, but it's quite a legendary performance by a legendary group of artists: Max Roach with Sonny Rollins and Kenny Dorham, recorded Dec. 12, 1956 at the Cafe Bohemia just seven months after the tragic accident that claimed the lives of Clifford Brown and Richie Powell.
This is the story: One of our friends and faithful Jazz Collector readers visited with the guy who had the tapes back in the 1970s and made a copy, on a reel-to-reel tape, of two
tracks that were recorded on this evening by the group, which also included Ray Bryant and George Morrow. The tracks are: Daahoud and I Feel a Song Coming On. They are pretty amazing, particularly I Feel a Song Coming On, which was a highlight of the LP Sonny Rollins Plus Four, Prestige 7038. Anyway, our friend is now making this music widely available for the first time. If you're interested, you can purchase the music at a Website he set up at www.norgran.com. It's hard to believe that URL was available, right? Anyway, we have no financial stake in this, we're just publicizing it because we would like our friends at Jazz Collector to have access to this great music. If you do purchase it, let us know what you think of the music by commenting on this post.