Brubeck Honored: Kennedy Center & Jazz Collector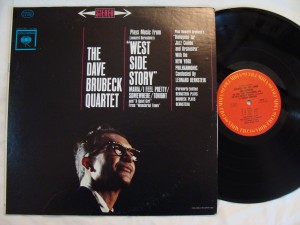 Time for our next giveaway. Here's the record: The Dave Brubeck Quartet Plays Music From West Side Story and Dialogues for Jazz Combo and Orchestra, Columbia 8257. This is a reissue, very nice pressing, of the album Bernstein Plays Brubeck Plays Bernstein. We are offering it in recognition of Brubeck being chosen as a recent recipient of the Kennedy Center Honors. The broadcast of the event will be tomorrow evening in the States, on CBS. They usually keep it a surprise as to who the performers will be, but CBS has put up a brief video on You Tube with Brubeck's four sons playing Blue Rondo A La Turk from the seminal Take Five album. We're sure it will be quite moving, especially since the actual event took place on Dec. 6, Brubeck's 89th birthday. As for the Jazz Collector giveaway:
This is a later pressing and it is in M- condition. We have it on the turntable now and it's quite nice. We're on the West Side Story side, Tonight, Maria, I Feel Pretty, Somewhere. It is what you would expect. Nice swinging jazz with some playfulness with the time signatures, some nice percussive Brubeck and, as always, terrific Paul Desmond. The other side features Brubeck in a Carnegie Hall concert with Leonard Bernstein and the New York Philharmonic from December 1959, almost exactly 50 years ago. If you're in the U.S., check out the Kennedy Centers Honors show on CBS tomorrow and let us know what you think. Mel Brooks will also be among the honorees, so you'll get to laugh as well as enjoy the music. In order to be eligible to win this LP, all you have to do is comment on the Jazz Collector site any time between now and Jan. 11, when the contest will close. As always, we provide the free record with free shipping anywhere in the world to the lucky winner.