Dave Brubeck LP: And The Winner Is . . .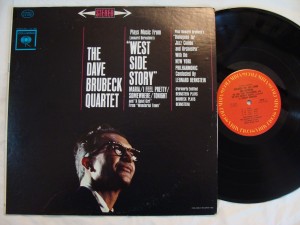 Time to complete our latest giveaway contest. As you may recall, we are giving away a copy of the following record: The Dave Brubeck Quartet Plays Music From West Side Story and Dialogues for Jazz Combo and Orchestra, Columbia 8257. This is a reissue, very nice pressing, of the album Bernstein Plays Brubeck Plays Bernstein. We offered it in recognition of Brubeck being chosen as a recent recipient of the Kennedy Center Honors. Did anyone happen to catch the broadcast? It was actually very warm and touching and the musical tribute was pretty good, featuring, among others, John Faddis, Bill Charlap and Brubeck's sons. After the tribute I asked my wife and son: "So who do you think wrote Take Five?" They looked at me like I was nuts: "Dave Brubeck, of course." It's just the way these things go, I suppose. Most people also assume Duke Ellington wrote Take The A Train. In any case, we are ready to give away this very nice Brubeck LP. As always, the criteria for the giveaway are simple: To be eligible
all you have to do is comment on the Jazz Collector site — anywhere on the Jazz Collector site — from the time the contest opens until it closes. This time we have 14 eligible contestants and they are: Bethellodge; Don-Lucky; Michel; RL1856; Paul H; Bob Brooks; Doug; BLIPP; GW; Brian; Geraint; Charlie; Keith Fiala, and Max. And, drum roll please, the winner is: Brian.
Congratulations, Brian. We are happy to ship the record free wherever you are. Just sent an email to al@jazzcollector.com and we'll get it out ASAP. For everyone else, stay tuned. We'll be posting another free record contest either later today or tomorrow.