Guest Column: A tribute to Ed Beach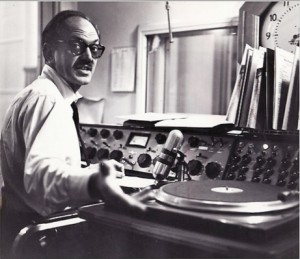 A relatively new Jazz Collector reader, Dan Forté, has asked if he could write a guest column in tribute to the late Ed Beach, so here's Dan. The accompanying picture of Ed Beach is courtesy of Marc and Evelyn Bernheim/Rapho Guillumette
A Tribute to Ed Beach, or How I Got Hooked into Jazz and Vinyl Collecting, By Dan Forté
Time: Mid-Late 1960s, Weeknights, live from 6-8 pm
Place: The Big Apple/ WRVR, 106.7 on the FM Dial
Cue-Up Opening Theme Music:  Wes Montgomery's "So Do It" from his Oct. 12, 1960 Riverside LP Movin' Along, RLP 342; 9342 Stereo
About 30 seconds into the theme, the imposing voice of our subject lets us know we're listening to "Just Jazz, Ed Beach with you, for the first part of a two part feature on…."
And, like magic, we knew we were in capable, swinging hands and all was well with the jazz world. Unlike some other long-winded jazz jocks who liked to impress their listeners with their knowledge of jazz minutiae and didn't know when to shut up and just play the music, Ed always knew it wasn't about him. Rather, it was ALWAYS about the music.
Ed Beach passed away quietly on Christmas Day 2009 in Eugene, Ore. just three weeks shy of what would have been his 87th birthday.  If you dug jazz and lived in New York City from 1961-1976, you were blessed to hear "Uncle Ed" and his Just Jazz program on radio station WRVR, call letters standing for Riverside Radio, as in the Riverside Church, with studios located in upper Manhattan at 85 Claremont Avenue.
Ed was trained as an actor and he also had an encyclopedic knowledge of jazz. Every time you listened to his meticulously researched show, you knew you were in for a treat.  For every live, two-hour program that Ed produced,
he put in more than six hours of research, air checking and timing-out each and every track, always giving credit where credit was due, mentioning track names, recording dates, sidemen, album titles, and record labels. His shows were such a huge hit among the NY jazz cognoscenti, that legions of Ed's listeners took to taping his two-hour JJ broadcasts instead of buying the vinyl he played, thereby depriving jazz musicians of income.  As a result, Ed, interviewed in an April 12, 1964 piece by Sherwin Smith in The New York Times Magazine, implored his listeners to continue supporting jazz and its musicians by buying their LPs and to refrain from taping his shows.
The Just Jazz phenomenon was an exhaustive audio archive culminating in more than 570 shows totaling 2,112 hours and covering artists literally from A-Z:  from bassist Ahmed Abdul-Malik through pianist-composer, Denny Zeitlin and of course, everyone in between, with "Old Uncle Gabchin" at the helm of each and every broadcast.
Personally, when it comes to jazz, I always like to say my father planted the seed but Ed Beach was my on-air professor of continuing education.  Now in my mid fifties, I stumbled upon Ed and WRVR quite by accident.  It was 1968, and, as a teenager, having become disillusioned with the acid-rock movement, began to channel surf on my hi-fi and came across the opening theme of Beach's show by guitarist Wes Montgomery as well as the show's under theme (also by Wes:  "D-Natural Blues" from The Incredible Jazz Guitar of Wes Montgomery:  January, 1960; Riverside RLP 320; 1169 Stereo). I was floored by Wes's unorthodox octave and single-note playing with his thumb and shot-off a quick letter to Uncle Ed inquiring about Wes's recordings.  Wes tragically passed away in June of 1968 of a heart attack at age 45.  In his own inimitable way, Ed, not knowing I was a teenager, responded on WRVR stationery (I still have his letter) stating the following:
"Dear Mr. Forté:
I don't know where you buy your records, but the Schwann Record catalog lists numerous LPs by Montgomery from Riverside to Verve to A&M.  Hope this helps.
Sincerely,
Ed Beach"
Unbeknownst to Ed, this was the start of my over 40-year, jazz vinyl collecting odyssey.  I began to spend hours (and money) scouring the dusty LP bins in Sam Goody, King Karol, EJ Korvette and of course, the out-of-print Mecca for jazz in NYC, Dayton's, for Wes Montgomery albums. Once I collected all of his vinyl output, I began to jot down more and more choice LPs that Uncle Ed played on his Just Jazz shows and my jazz record collection began to multiply quicker than rabbits. As for WRVR, the station eventually went to an all-country music format in September 1980 (the changeover was shocking because no one expected it).  One moment, jazz DJ Batt Johnson was playing Mingus's "Goodbye Pork Pie Hat," the next moment the station was spinning Waylon Jennings's "Are You Ready for the Country." The station's call letters also changed to reflect the switch: WKHK.
Fast forward:  While I was the Blue Note Jazz Club's international director of publicity and marketing from 1992 to the end of 2001, I tracked down Ed, who had resigned from WRVR in 1976 soon after the station was sold. I'll never forget calling him for the very first time.  It was really a kick because he spoke on the phone as if he was still doing his show on the air.  I told him who I was and we immediately hit it off. Ed had just donated all of his JJ programs to the Library of Congress in Washington and we joined forces for the common good trying in vain to package these programs as a comprehensive audio history of jazz.  Unfortunately, massive legal issues like paying royalties to the estates of deceased jazz musicians on every tune dictated otherwise.  Remember, these broadcasts were originally intended as one-shot, single-air broadcasts and were meant for nothing else.
Regardless, Ed and I became fast pen pals.  I was privileged to befriend one of my jazz idols.  Every time I received his "scribblings" or handwritten letters in the mail, I knew I was in for a treat.  Ed used graph paper and wrote with an ancient Smith Corona typewriter, a leaky pen or sometimes both.  He used every available inch of paper, including all four sides.  It was like deciphering a buried treasure map!  In every envelope, he would also cram loads of classic cartoons from his beloved New Yorker magazine, sort of like getting bonus tracks on today's CDs.  I still have and cherish all his letters, in which he reminisces about his glory years at WRVR, his liberal political views and his jazz favorites, tenor man Johnny Griffin being one of them.
Knowing I was also a big fan, he even sent me a bunch of his personal, ¼-inch reel-to-reel tapes of some of the Just Jazz broadcasts, containing, as Ed used to fondly say, some "real up tempo swingas."  Being the nut that I am, I booked supervised studio time with Jim Czak, owner of the famed Nola Penthouse Recording studios on West 57th Street in Manhattan and had them dubbed onto CDs so I could listen to them forever. About one month before he passed, I phoned Ed.  I knew his body was failing him but for the very first time, so was his voice.  I had a feeling it would be the last time we spoke. Sadly, I was right.  Subsequently, I've been in contact with his son, Mark, who, incredible as it sounds, never heard his dad's JJ broadcasts.  Mark Beach, who is in his mid-forties and also resides in Eugene, Ore., was just a small child during Ed's reign over the New York jazz radio waves. To rectify the situation, I sent him dubs of a few JJ shows and, like everyone else who heard him, he, too, was floored.
Before Ed died, I told him that countless jazz lovers owed him a huge debt of gratitude for his dignity, integrity, irreverent, dry humor and most important, for instilling in us a lifelong love of jazz.  Amazingly, although he was behind a microphone continuously for 15 years in a major market like New York City, Ed never really knew how many lives he touched and inspired.  Mine, of course, being just one of them….
Whether known by his many nom de plumes as "Ashley Seadrift," "Sacheverell Seaworthy," "Old Uncle Gabchin" or "Sam Seashore," Ed Beach will always be a special part of my life. On behalf of all the others whose lives he touched, we will be forever grateful.  Thanks, Ed, rest in peace.  To paraphrase his immortal words as he went into a dreaded on-air commercial:  "Yeah, let's break it right 'ere…."