Listings and Musings on Rare Jazz Vinyl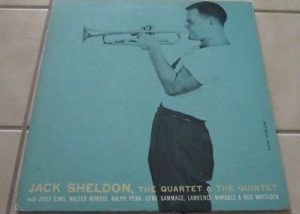 We'll start with a rare Blue-Note-free day here at Jazz Collector: Jack Sheldon, The Quartet and the Quintet, Jazz-West 6. This is an original pressing listed in M- condition for the record, although it is probably closer to VG++, and probably VG+ or VG++ for the cover. This is a 1956 record that features Zoot Sims. The price is in the $200 range with about three days to go. I did a quick Google search and am happy to report that Jack Sheldon is still alive. 🙂 I remember him not only as a terrific player but also as a pretty good comedian, playing sidekick on the Merv Griffin show when I was growing up. You wonder about an artist like this in terms of both their legacy and the long-term value of their records in the collectors' market.I happen to be of an age when I remember Sheldon and can picture him. What happens when the people who actually remember Sheldon are gone? Do people still want his records? No offense, but he's not Miles Davis or Clifford Brown. Perhaps a record like this will retain its value more due to the presence of Zoot Sims or the fact that it was on a very rare label. Of course, I would love to have an original pressing of this record for my collection and I'm sure I would give it a good listen. But probably not at the price that this will command in the end.
This one is more up Clifford's alley than mine, but I couldn't help notice it because of the final price: M'BOOM, Percussion, Strata-East 19732. This looked to be an original pressing listed in VG+ condition for both the record and the cover. The final price was $1,913. Clifford did, indeed, write about this record back in October of 2015. At the time he noted that it went for "a whopping $1,592" — and that record was in M- condition for both the record and the cover. I guess the price has M-boomed in the past year and a half. (Sorry).
Here's a question: What do you do with a record that has an odor of mold? I bring this up because I am watching a copy of: John Coltrane, Ballads, Impulse 32. This is an original promo pressing in Excellent condition. The start price is around $300 and so far there are no bidders. This is one of my all-time favorite records and one that I listen to quite often because it is also a favorite of The Lovely Mrs. JC. My original mono pressing of the record play well but, alas, there is the aforementioned odor of mold whenever I pull it off the shelf. It is quite off-putting and has put me in a position where I would like to replace my copy. So, I guess, I answered my own question: I need to figure out a way to replace it. For a record like this, which I listen to often, I think I would go for an M- copy rather than excellent. Trade anyone?
Here's another one that I've never owned as an original pressing: George Wallington Quintet at the Bohemia, Progressive 1001. I love the tagline "Featuring the Pack," which just happens to be Jackie McLean, Donald Byrd, Paul Chambers and Art Taylor. Not a bad "pack" to have. This copy was in VG+ condition for the record and just VG for the cover,  with a seam split and tape on the back. Still, it sold for $511. This is an example of a huge change I've seen in the market over the past few years: Rare records in not so great condition still selling for top dollar. I'm sure there are many reasons for this phenomena, primarily that these records are now so hard to find in mint condition that collectors just want to own a copy and will be less discerning about the condition. Yes?