On EBay: A Few From Impulse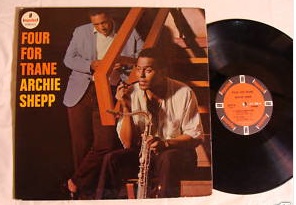 We've been very busy with eBay the past couple of weeks — putting records on eBay is what we often do when we are procrastinating from other work, so this would be the evidence that we've been in heavy-duty procrastination mode. Anyway, our neurosis is your gain: This week we've had 70 items on eBay, several of which closed yesterday, many more of which close today, and a few more of which close tomorrow. Part of what we have up there now is a nice batch of Impulse LPs we've either pulled from our own collection, or pulled from the collection we purchased in Trenton back in May. Here are a couple of examples:
Archie Shepp, Four For Trane, Impulse 71. This is an original orange label pressing in nice VG+ condition. It is closing later today and is currently at $40.  Also from the same batch is this:
Yusef Lateef, Jazz 'Round the World, Impulse 56. This is also an original mono pressing with the orange label. This one is in VG++ condition and is currently at about $25. I knew a knowledgeable collector about 20 years ago who predicted that one day the Impulses would have the same cachet — and the same value — as the Blue Notes and Prestiges. With three or four notable exceptions — John Coltrane with Duke, Coltrane Ballads, A Love Supreme, Oliver Nelson Blues and the Abstract Truth — that prophesy hasn't come close to coming true. Perhaps someday in the future, but I wouldn't bet too heavily on it: Although the packaging on the Impulses is great, as is the music (generally), as are the recordings, generally by Rudy Van Gelder. So it's hard to go wrong, isn't it?