Rare Jazz Potpourri: Classic Trane, Billie's First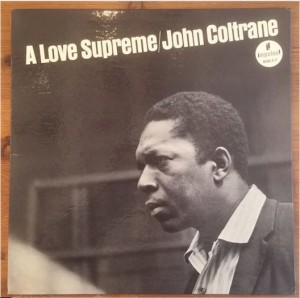 Here's a jazz vinyl potpourri for today, starting with John Coltrane, A Love Supreme, Impulse 77. This looks to be an original mono pressing with the Van Gelder stamps in the deadwax and the orange labels. The record is in VG++ condition and the cover is in Ex. The bidding is getting close to the $450 range with a little more than a day left in the auction, as of this writing. Although A Love Supreme has pretty much always been regarded as a masterpiece, I really saw it as a big collector's item until the last few years. Sort of like Kind of Blue: Even though there may be more copies of these records than some others, there is also much greater demand for original pressings. These records not only appeal to collectors, but pretty much to anyone with a love for jazz.
I find this one really interesting:
Billie Holiday and Benny Goodman, You Mother's Son-in-Law, Columbia 2856. This is an original 78 with blue wax. It is billed as Billie Holiday's first recording and a quick search of Wikipedia confirms this. The record is in E- condition and the bidding is getting close to $300 with more than five days left. According to Wikipedia, this record sold only about 300 copies, which would make it quite rare. If I had it, I wouldn't play it — I'd frame it. What about you?
As I'm sure is the case with many of you, I continue to watch the auctions from the seller funkyousounds and particularly the records from the Dr. Herb Wong collection. I continue to marvel somewhat at the prices that some routine records are getting — records that typically don't sell at all on Ebay, or would sell at $10 or less. A couple of examples:
Gerry Mulligan, Night Lights, Philips 600-108. This is a stereo pressing listed in VG++ condition for both the record and the cover. It also has a promo stamp. Bidding is more than $60.
Oscar Peterson Trio, We Get Requests, Verve 8606. This is a stereo pressing in VG++ condition for the record and M- for the cover, which is in shrink wrap. The bidding is nearly $50.
Gerry Mulligan, Gerry's Time, VSPS. This was a reissue record you couldn't even give away. It is a sealed copy and the price is at $36.