More Vintage Getz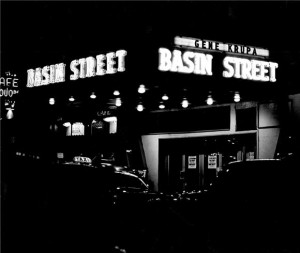 Posting that clip on Stan Getz playing The Way You Look Tonight evoked something for a bunch of readers last week. I got a note from my friend Dan Axelrod with an interesting story and clip:
"Billy Bauer told me he was in the Royal Roost in the early 50's and Stan on a break returned to the bandstand and without accompaniment daven'd Little Girl Blue and when he was done there wasn't a dry eye in the club.This '56 live  Basin Street Cafe rendition (Shelly Manne, Oscar Pettiford, Dick Katz)  evokes a bit of that beauty- if you wanna post."
A few words of explanation. Dan uses the word "daven'd." This would be something of a Jewish colloquialism, although I've never heard anyone else use it precisely in this context. I think it generally means prayed, but in this case
it means something more, something quite personal and other-worldly, which is quite accurate, in my view. Also, Billy Bauer was a jazz guitarist often associated with the Lenny Tristano school of jazz and he was at one point Dan's guitar teacher and the person who introduced Dan to Tal Farlow, who became his good friend and mentor. There was a time when Dan and I were doing a gig in Queens — I played rhythm guitar (sort of) — and Billy Bauer came to see us and therein lies a story for another day. In the meantime, enjoy this vintage Getz.