Albert Ayler, Sun Ra, Milford Graves + More for the $1,000-Up Bin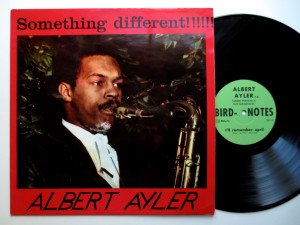 Like many of you, I've been watching the auctions of a Maine dealer under the handle "the-things-that-are" and his or her impressive list of 1960s underground jazz rarities and European small-press records. Initially the seller put up an impressive buy-it-now list with rare early recordings from Albert Ayler, Sun Ra, and the composer Moondog. Most of these did not sell at fixed prices, although a few choice pre-production and very ornate-looking copies of Ayler's Bells moved at $1,250 and $1,050, respectively. One seemed to be hand-printed on clear plastic, a variant that I've never seen before. These limited-run early versions of Bells surely made their intended mark at the time of release in 1966, and once ESP put it into production the record saw numerous variants of clear and colored vinyl and regularly printed or screen-printed color combinations. At auction, the seller did well with a number of interesting versions, even bringing in the ducats on a couple of damaged multicolor copies and 1970s stereo pressings (which normally don't go much over $40).
The seller also had a copy of Ayler's first recordings released on the tiny Swedish imprint Bird Notes, Something Different!!!, as well as two different test copies of a second volume that were not issued at the time, rather showing up in 1990 on the DIW label in Japan. The copy of Something Different!!! was VG for the record and EX, or very close to M-, for the thin laminated cover and still netted a cool $1,789. The test pressings were both listed in VG condition for the vinyl and included covers of the earlier volume (which has no track list). They went for a whopping $2,375 and $3,589, respectively.
Ayler's Spiritual Unity, recorded in 1964 and released as ESP 1002, is a free improvisation classic and its initial edition is tough to come by, with a different take of "Ghosts (Second Variation)" on side two than what was used on more common, slightly later pressings. The pre-release edition, with a beautiful black-on-orange hand-pulled silkscreen sleeve and a booklet with notes by Paul Haines, is very rare. I handled a copy once and it was in pretty rough shape. This one may have been somewhat better but was still only listed in VG condition for the vinyl and what looked like a strong VG+ for the cover, and brought in $2,047. Ayler's initial forays into his own music were in Scandinavia and in addition to the Bird Notes title, three different (and highly-regarded) sessions were also released on the Danish fan-club label Debut. My Name Is Albert Ayler seems to be the most in-demand of these yet comes up with some regularity; thus, $1,592 for a VG++/NM copy seems a little high. Spirits is a personal favorite and I was able to score a nice UK Transatlantic mono version about fifteen years ago for $20. Even that edition goes for some change now, but I was surprised to see the original Danish with its sweet textured sleeve in M- condition come in at $997, way more than any previous auction.
In the Sun Ra department, many of us were curious about this Transition acetate of unissued takes, which also included tracks and fragments from Joe Gordon and Dave Coleman. While it did not sell for a buy-it-now of $5,500, someone did bite at $1,125. A VG acetate is not something that is really playable at this point but does serve as something of an artifact. The seller also had a very clean, albeit probably second edition, of Jazz in Silhouette on Ra's Saturn imprint. Scorched copies have recently netted high prices, so $1,580 for a strong VG++ copy is probably not too surprising. There were a fair number of other early Ra classics on offer here, all of which did some wallet damage, and one which intrigued me in particular because I narrowly missed out at around $40 some years ago – Jazz by Sun Ra on the Swedish Sonet imprint, one of their earliest LPs. This example was a clean EX (it looked close to M- to me) for the top-loading laminated sleeve and VG for the vinyl, and netted $799.
Finally, a record that I've long been after but has also historically been well out of my price range is the first volume of duets between drummer Milford Graves and pianist Don Pullen, captured live at Yale University in 1966. The second volume, titled Nommo, is much easier to come by, yet is not musically as compelling as the first. Both were issued privately on their SRP (Self-Reliance Projects) imprint and In Concert at Yale University in its initial version came with a hand-painted, sometimes hand-lettered sleeve. Later pressings (also very rare) have a gold-printed jacket. The example on offer here had a particularly nice, rather psychedelic color scheme and, while missing the typewritten and mimeographed insert, nevertheless came in at $3,011 with both record and jacket listed in VG+ condition. That is by far the highest price I've ever seen for this rarity.
Take a look at some of these completed auctions as there are a lot of interesting, well-presented titles here; in addition to Ra, Ayler and Pullen-Graves, some rare Chet Baker and a gaggle of Danish Debut LPs are there for your perusal. Pretty neat stuff and it'll be interesting to see what the seller continues to put up on auction.