Checking Out the Avant-garde Jazz Listings on eBay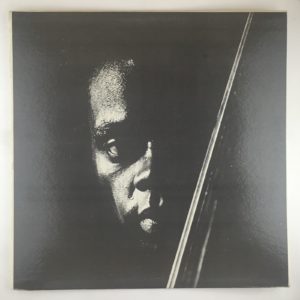 It looks like it may be a banner week for avant-garde and free jazz auctions, at least if you take a look at the chunk of nice records that sometime JC poster nobbyknucks has on offer. I've got my watch on several of these titles but would not be surprised if I come away empty handed (not that I need any more records in a cramped Brooklyn apartment, mind you).
First up is this fine trio date led by saxophonist Byard Lancaster, Us, with drummer Steve McCall and bassist Sylvain Marc, on the French label Palm. The LP is listed in NM- condition and the cover VG- (although apparently it's just an unglued Euro sleeve which, pasted back together, would probably be a VG+). It also includes the funky 7″ in NM- condition as well. I've been trying to get a copy for years and usually it's held at around $250, though given the fact that with just under a day to go it's already at $207, I'd have a hard time believing it won't do serious wallet damage. It is one of the tougher records to find on Palm, which was the label run by French pianist-composer and bandleader Jef Gilson.
The auction for bassist Henry Grimes' The Call, recorded in 1965 and his only leader date until resurfacing out in LA in the early 2000s, has me a bit perplexed. It's a wonderful album with clarinetist Perry Robinson and drummer Tom Price, part of the famed early ESP run (the money ran out sometime in 1968), and it appears to be a 1970s pressing with an alternate label design. Normally I would think a record like this would run you about $40; however, this VG+/VG+ copy is holding tight at $111, and I'd be surprised if there isn't a little bit of insanity in the final moments driving it even higher.
Reedist Peter Brötzmann's Machine Gun is a classic German free jazz session, an example of which should be in every home in America… or at least those homes that appreciate rather dense improvised music. It was originally issued on Peter's own BRÖ imprint in 1968-69, apparently in two pressings (one with a top-loading sleeve, the other with a normal side-loading sleeve). FMP reissued it in 1972 and there were several FMP editions into the late 1980s. The copy on auction here is probably a first FMP, so third pressing, and is also priced at $111, though that'll probably change by Monday afternoon. The vinyl is listed in NM condition and the matte cover looks to be about a VG+ to VG++ with some wear. I've got a clean later FMP copy and am holding out for a crisp original BRÖ. Maybe the Mrs. Clifford will find one for my Christmas present this year?
I'm proud to own a copy of Opium/For Franz, a collaboration between Austrian trumpeter-composer Franz Köglmann and the great American trumpeter-composer Bill Dixon. Privately released on Köglmann's own Pipe label, each copy has a different hand-painted sleeve and is signed on the back by Mr. Köglmann (the one I acquired has a bit of newspaper glued onto it, giving a collage-like effect). It's a beautiful album from a musical perspective as well as visually, and this is a pretty fine example on offer… $90 doesn't seem too bad for a NM copy with a VG++ cover, but who knows what the final price will be.
As always, happy collecting and happier listening!