Oct 28, 2009 Jazz Vinyl, Jazz Vinyl on eBay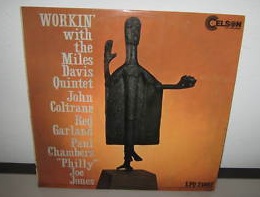 We're watching a few items closing on eBay in the next few days and here's one that caught our eye: Miles Davis, Workin' Celson 25002. This, apparently is an original Italian pressing of the great LP featuring the classic Miles Davis Quintet of John Coltrane, Red Garland, Paul Chambers and Philly Joe Jones. Normally the European issues of the American LPs don't have the same cachet — and don't sell for the same prices — but this one seems to have attracted a following. There are already 13 bids and the price is more than $370.
Speaking of Miles, we're also watching this: Miles Davis, Kind of Blue, Columbia 1355. This looks to be an original pressing with the rare
white promo label. This one is said to be in VG++ condition for both the record and the cover. The current price is about $200, with just a few more hours to go.
Tags: Celson, Columbia, Kind of Blue, Miles Davis