Rare European Jazz on eBay: Meinert, Pelzer and more…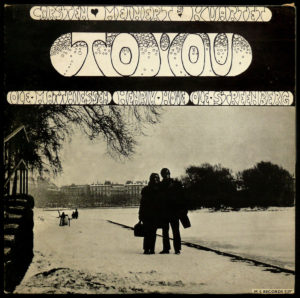 Greetings to all from the world of obscure jazz records on eBay. It feels weird writing that, considering how much strife and upset is occurring due to our political situation and like Al, it's been hard for me to find much respite even in my own projects. At the same time, settling down with music made as the world was in the midst of conflict does give one hope that as a whole we can get through these seemingly insurmountable situations. Not unscathed, but through.
With that in mind, here are a number of European jazz records on eBay that I've been watching. First up is the third LP by Finnish saxophonist Eero Koivistoinen, The Original Sin, released on Scandia in 1971. It's a fantastic slice of Finnish-American (due to the presence of guitarist Lance Gunderson) modal jazz and jazz-rock that has recently been reissued (though even the reissue is hard to find). Koivistoinen also released a couple of superb records on RCA Victor somewhat later, both of which are well worth seeking out. Scandia pressings aren't known for their high quality, and this one was probably in VG+ or VG++ for the vinyl with the thin cover in VG or VG+ condition. The final price was $477.
A personal favorite in the realm of private-pressed Scandinavian jazz is this first LP by Danish saxophonist Carsten Meinert, To You, released on his own M.S. imprint. A second version exists on Spectator, which Meinert co-founded, with pretty much the same artwork (albeit without a flipback sleeve) and in presumably about the same quantity (not many). It's solidly in the realm of mid-60s Coltrane and despite being a bit derivative, is in my opinion a fantastic listen. A high-quality authorized reissue was released on Fredriksberg Records in 2015 and is still in print. This original pressing was listed in about VG+ condition for the record and VG++ for the cover and landed at an unsurprising (to me, anyway) $858.
Here's one for the $1,000+ bin: a very rare Italian jazz LP led by the team of saxophonist Gianni Basso and trumpeter Oscar Valdambrini, co-leading a bossa nova-inspired ensemble through a program of nine standards and originals. Their LPs are quite in demand (as are most early-60s Italian jazz albums) and I've never seen Bossa Nova before. This original Ricordi pressing with a simple red, black and white sleeve design (very sound-library in its look) was in VG++ to M- for the record and probably VG or VG+ for the thin jacket, and ended at $1,259.
This rare album from a Belgian-Italian combo was on offer from the same seller, auderesemper (Roberto Castelli), who in my experience has been very reliable, and almost reached the $1,000 bin. The record was made under the leadership of Belgian saxophonist Jacques Pelzer and features trombonist Dino Piana, bassist Benoît Quersin, and others in a small-group setting. While being familiar with the players, I've never seen the album before. An original pressing on the small Cetra label, the LP was probably in VG+ or VG++ condition and the very thin cover with beautiful artwork was in VG condition. It netted a cool $920.
Finally, here's one that would easily stand up to its American counterparts in the category of tightly-arranged hard bop: Italian drummer Gil Cuppini leading quartet, quintet and sextet units through a program of modern jazz classics, including Basso, Valdambrini, bassist Giorgio Azzolini, and saxophonists Lars Gullin and Eraldo Volonté. It's a really fine album and there are a few different issues of the music. This original Broadway pressing was probably in VG or VG+ condition for the record and VG++ for the cover, and went for a "reasonable" $350.
There are still a lot of interesting jazz records to keep an eye out for, perhaps allowing a bit of respite in our day to day.