Sep 25, 2012 Jazz Vinyl, Jazz Vinyl on eBay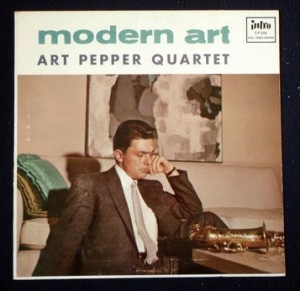 Here are a few of the more expensive jazz vinyl auctions we've been watching:
Art Pepper Quartet, Modern Art, Intro 606. This one was rated in VG+ condition for both the record and the cover. I have to give the seller and/or Photoshop credit — that is a fine looking picture of the cover and it certainly looks a lot more appealing than VG+. I have a feeling some of the bidders felt the same way: This one sold for $1,580 with 20 bids and about half as many bidders. Love the simplicity of the cover of this one. Anyone know who did it? Intro is not a label that gets noticed too often.
J. R. Monterose, The Message, Jaro 5004. This looked to be an original mono pressing in VG++ condition for the record and VG+ for the cover. It sold for $888.78.
Beverly Kenney, Like Yesterday, Decca 8994. This was an original deep-groove pressing with the pink promo label. It looked to be in quite gorgeous condition and was graded M- for both the record and the cover. Quite a nice find, which was reflected in the final price, which was $790, the highest we've ever seen for this record.
Tags: Art Pepper, Beverly Kenney, Decca Records, Intro Records, J. R. Monterose, Jaro Records, Modern Art