Still More Adventures in Jazz Collecting, Part 3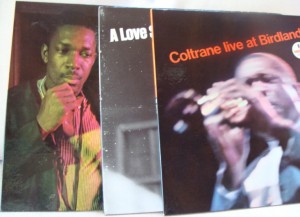 So I'm sitting on the floor and there's this two-shelf low cabinet and there's maybe 300 records in it altogether and I reach for the Coltranes on Impulse and pull them out. They are not obvious originals but each one has a gatefold cover, so there is hope. I open the first one, Ballads. And it is . . . ugh, a very late black label pressing. Then A Love Supreme: late pressing, black and red label. In fact, I go through all of the Coltrane Impulses and there's not a single original pressing in the bunch. And now I'm fairly convinced that this is just a lovely collection of great music but not one of collectible records. And I am almost ready to give up and give Karen my advice, which is that she should probably go to Infinity Records around the corner and see what they would pay.
And then, in the middle of the Coltranes, there is this record: Sonny Clark, Sonny's Crib, Blue Note 1576. And I remember thinking, why is the Sonny Clark record amid all of the Coltranes? But, of course, Coltrane is a sideman on this record and if the guy was a real Coltrane fan perhaps he organized his records according to his favorite artists and wanted all of his Coltrane records in one place. As a collector who constantly reorganizes and plays with my own collection, I could certainly relate to that.
So I pulled out the Sonny Clark record and took the record out of the sleeve and I was absolutely sure it was just like all of the Blue Notes on the other side of the room, probably a United Artists pressing or a Japanese reissue. And I glanced at the label and slid the record back into the sleeve, barely looking at it, assuming it was like the rest. But something registered. I slid it out again: Blue Note Records, 47 West 63rd, NYC. There were deep grooves, RVG and the ear.  Could it be? An original pressing of Sonny's Crib? And I looked at it again, and again, and again. It was indeed an original. Among all of these other reissues, here was an original pressing of Sonny's Crib. And I knew this was a record of value and, more of interest to me as a collector, it was a record I did not own, at least not as an original pressing.
So I kept looking on these two shelves and there were more records of interest: Original pressings of records from Coltrane and Miles Davis and Clifford Brown and Sonny Rollins and Bud Powell and Charlie Parker. Among these were records on the Prestige and Blue Note labels and everything seemed to be in very nice condition. These must have been the guy's favorite artists, I thought. These were the only ones he cared about in terms of having original pressings. This guy was a discerning collector, I realized, and had pretty much the exact same taste in music as me. I mean, if I were to list my favorite artists these would be the exact same players, with the probable addition of Thelonious Monk, who was surprisingly not well represented in this collection.
So now I am sitting on the floor, Marty the dog still quiet in his crate, and I am thinking that this is quite an interesting collection and I have no idea what Karen really wants to do with it and whether it would be something I'd be interested in buying. But I know that I promised Karen I would tell her if there was anything of value in the collection so that she could make an honest assessment of what to do with it. So I got up, left Marty behind to guard the records, and found Karen and Adam sitting in the living room.
What happened next? Stay tuned for Part 4.