Still More Adventures in Jazz Collecting, Part 5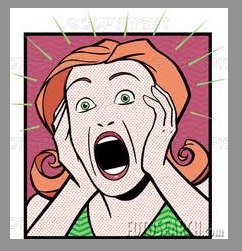 Have I ever mentioned that The Lovely Mrs. JC is a psychotherapist by profession? You'd think after 35 years of marriage to a shrink I'd have been somewhat cured of my vinyl obsession by now. Anyway, The Lovely Mrs. JC returned home from her practice that Monday evening and we sat down to have a quiet dinner and chat. We had many things to talk about and the record collection wasn't foremost on her mind and, in fact, I had made such little light of the prospects for this collection that it seemed to have slipped her mind completely. So I had to bring it up.
"You know I saw that record collection today," I said, quite casually.
"Oh, yeah," she said. "Anything of interest?"
"Yes, it was pretty interesting," I said.
We sat in silence for a few seconds.
"There's a chance I may be buying it," I finally said.
She stared at me in stunned disbelief.
"How many?"
I smiled a sheepish smile and held up three fingers.
Her eyes popped out of her head. "Three hundred records! How can you buy three hundred more records!"
I shook my head no. I said it wasn't three hundred. She smiled a smile of instant relief.
"Three records. That's fine."
I shook my head no again.
Her face turned an ashen white. She pushed the words out softly, as if they were pure evil and should have never been voiced aloud by any human being. "Three thousand records." It was barely a whisper. The words just sat there between us. Her face went from white to green. She looked physically ill. She couldn't swallow and her breathing tightened markedly. "You're not serious, are you?"
Now I should explain something, lest you reach the mistaken conclusion that The Lovely Mrs. JC is anything but a wonderful and supportive spouse. About a year ago we decided to sell our home in Great Neck and downsize and get rid of many, many things that were deemed unessential. The Lovely Mrs. JC rid herself of hundreds of books and some artwork that she had treasured and I vowed to shrink my record collection, not only through the now mythical Great Jazz Vinyl Countdown, but through selling records on eBay and even donating records to charity. Last year, in fact, I sold 500 records at a garage sale for $1 apiece and donated 1,500 more to the ARChive of Contemporary Music. This was huge progress in the interest of matrimonial compromise and bliss.
However, since then I had done nothing to downsize and, in fact, had purchased two more collections and had custom cabinets built in our Berkshires home to accommodate several thousand records. In fact, I had recently designed new cabinets with my builder that were to be installed the following week, allowing me to get records out of storage and have space for yet another full roomful of records on the order of at least 2,500 or so.
As the color of her face went from white to green to white again and then starting recapturing its normal pinkish hue, The Lovely Mrs. JC asked me what I intended to do with these 3,000 records. I didn't have the heart to tell her that it was really about 50 or so records that I cherished, that I wasn't even sure what was in the entire collection. But I had thought about what to do with the records and it was a strange conclusion I had drawn that was completely unexpected to me. I wanted to keep the collection intact for a while, to just have it and pore through it and play with it and play the records, without thought to whether or how or when to sell the duplicates. For some odd reason I felt respectful to the owner of the records, whom I had probably never even met, and wanted to honor him in some way by keeping his collection alive. I have a feeling it had something to do with my own father, who passed away about 15 years ago: Knowing how much my dad treasured his records and how much it meant to him to build up his own collection and how each record he purchased meant something special to him. It seemed kind of odd, but for some reason felt natural. It was what I would have wanted for my own dad, I guess. In any case, The Lovely Mrs. JC was suddenly sympathetic to the situation.
"You know those record shelves you are building in the country," she said. "If you buy the collection, you could put the records there."
Brilliant. Hadn't even thought of it myself.
So the potential obstacle of The Lovely Mrs. JC was now overcome and her support was in hand. And now I knew what I would be doing with the records if I were to purchase them. Next I just needed to get the OK from the owners of the records. Which turned out to be not as easy as it may have seemed.
Stay tuned for Part 6