Still More Adventures in Jazz Collecting, Part 6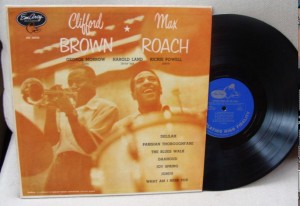 When I left Massapequa on Monday Karen said she wanted to sell the records to me but it was not her decision alone, she would have to consult with her brother. She believed that he would also want to sell the records to me and they'd probably give me the go-ahead on Tuesday. When I didn't hear from Karen by Tuesday evening I started getting a little nervous: Were they getting cold feet, were they shopping the collection around, was there suddenly going to be a slew of cutthroat record dealers sniping for the records? Just the normal paranoia, right? I wasn't all that concerned because I believed that no dealer would come close to the offer I made because, well, for me it wasn't a business decision but an emotional decision. If it was about business, I would have spent more than a half hour with the records in the first place, and I would have at least gone through them all to identify the ones of the most value and to figure out how to get rid of the ones I didn't want. But I was just improvising and by this point it wasn't about whether I had made the right decision to buy the records, it was just about closing the deal.
I had sent Karen a note on Monday, telling her how much I enjoyed meeting her and seeing her dad's collection. She replied late on Tuesday: "Hi, Al, I enjoyed meeting you, too. I would like to sell you dad's collection. I spoke with my brother Gary and he wanted a day to think about it. I will be meeting Gary at the house tomorrow (Wed) and we'll give you a call. – Karen."
But I didn't hear from Karen or Gary on Wednesday.
I called Karen on Wednesday evening. "Gary's still not sure," she said. "He wants to count the records. Hopefully we'll have a decision by tomorrow."
I could see it now, Sonny's Crib slipping away forever.
The next afternoon I received a call from Gary. I hadn't spoken to him yet. We talked for a while and it was clear he was a very sweet guy. He really just wanted to talk about his father and his dad's love for jazz and his love for the records. I'm sure it was sad for Karen and Gary to be giving up the records: Even though they really didn't have the same kind of appreciation for them as their father, they were such an important part of their dad's life. It was like saying goodbye to him all over again. In a way, I think Gary wanted to feel they were going to someone who would truly enjoy them. I assured him that would be me.
In any case, Gary had counted the records and the final tally, he said, was 2,345, counting all of the individual records in the collection, where a double record would count as two. This made me feel a little better: At least it wasn't 3,000. We discussed the price and quickly came to an agreement. The deal was in place. The records were mine. I just had to pay for them and pick them up.
Gary and I arranged for a Saturday pickup in Massapequa and I recruited my friend and business partner Mike to help. Mike is not only strong, he has a big car. I got to the house at about 9:30 on Saturday morning armed with 25 empty record boxes and several empty crates. I went to the back room where the records were located. It was 90 degrees outside and there was no air conditioning. I was undeterred, running on pure adrenaline. I opened a box and a crate and went immediately to the cabinet where all the original pressings were located. This was my plan: I would go quickly through the records – anything that looked like a rare collectible I would put in a crate; anything that was not a collectible would go in a box. The boxes would go directly into storage, the crates would come with me back to Manhattan for inspection, perusal, heavy petting and listening.  There was no way I was bringing home 25 boxes and two crates of records. The sight alone would have thrown The Lovely Mrs. JC over the edge. Eventually everything would end up in The Berkshires on my new shelves.
By the time Mike got there at 10:30, I had already loaded about 15 boxes and more than half a crate. Mike started loading them in the car. It was now 92 degrees. In the end, there were 27 boxes and two crates. The 27 boxes went into Mike's SUV, the two crates went into my Prius. We drove off in the two cars and I breathed a deep, deep breath. The records were mine. Sonny's Crib, the Miles Prestiges, the Bud Powell Blue Notes, and all the rest, some I will treasure forever, some I have no idea what I will do with.
Eventually I made my way back to Manhattan and put the two crates on a cart and up the elevator and into my apartment. I put them on a table and flipped through them one by one. I pulled one out to listen: Clifford Brown and Max Roach, Emarcy 30036, side two, Daahoud, Joy Spring, Jordu, What Am I Here For. I put the record on the turntable and sat back on the sofa in the living room, clutching the cover in my hand. This, indeed, was heaven.
Stay tuned for two more parts to the story. Tomorrow I talk about the records and the man who collected them.