Ephemera on my Mind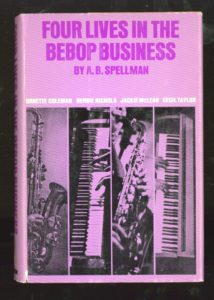 I was watching a recent auction on eBay from the Jazz Record Center focused on books, magazines, programs and other ephemera. I was curious because I have amassed a large collection of this type of stuff over the years, including duplicates, and I'm thinking about scaling back what I have, including the idea of adding a storefront to the Jazz Collector site. Just thinking about it at this stage, and I am not always the best at turning thoughts into action, so don't anyone get too excited. Anyway, one of the items that caught my eye was this book: Four Lives in the BeBop Business, by A.B. Spellman. This was a first edition and the Jazz Record Center put a start price of $65 on it. And I was thinking, I have a copy of this and if someone offered me $65 I'm pretty sure I would sell it. But there were no bids on this item, so I have no idea at this point what the real market value would be.
Other than one or two items, there wasn't a lot of action on this auction. I know the market for ephemera and other items isn't nearly as robust as the market for records, so this was not surprising. Some of the items did sell, some didn't. A few examples:
A 1985 Japanese edition of Swing Journal devoted to Miles Davis. The sold for $30.
A Tommy Dorsey book called "Love In Swing Time." I never heard of this and couldn't imagine anything by Tommy Dorsey fetching big bucks, but this one sold for $100.
Jazz Graphics. This is a Japanese book from 1991 focused on the cover art of David Stone Martin. It's a pretty cool book. I happen to know because I purchased a copy. This one sold for $150.
Esquire Magazine, The Golden Age of Jazz, January 9, 1959. Fred listed this as "the most famous Esquire issue and perhaps one of the most sought-after magazines related to jazz." Even with that intro, the item did not sell at a start price of $50.
Billie Holiday, Lady Sings the Blues. This was a first edition. I thought there might be a lot of interest in this one, but there wasn't. Just one bidder at the $50 start price.
Anyway, I just was looking through my storage unit and found a box labeled "Downbeat Doubles," so apparently i've got ephemera on my mind, which sounds like a nice title for a song — or perhaps for a headline.