And Now For Some Prestiges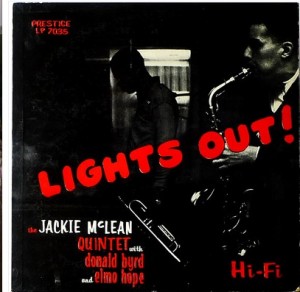 Yesterday was Blue Note day, today we promised a look at some of the Prestiges.
Jackie McLean, Lights Out, Prestige 7035. This is from the same seller that is selling the Mobley, which is now approaching $3,500 and still hasn't met the reserve price. The Jackie record looks to be in what I would call VG++ condition for the vinyl and VG+ for the cover. It is an original pressing with the yellow label and New York address. The record is in the $400 price range and has already passed its reserve.
Doug Watkins, Soulnik, Prestige/New Jazz 8238. This looks to be an original purple label pressing with the deep grooves. The record is listed in M- condition and the cover is VG++, with a Preview Copy stamp on the back. The start price for this one is around $150 and so far there are no bidders.
John Coltrane, Cattin' With Paul Quinichette, Prestige 7158. This is an original yellow label pressing with the deep grooves and it is in M- condition for both the record and the cover. The start price is around $300 with no bidders. The seller may be stretching a bit with that start price, but then again . . . . .