Checking Out Some Classic Jazz Vinyl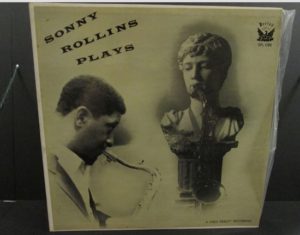 Sorry for another long delay between posts. I have been watching eBay, and here are some of the jazz records that have caught my eye, starting with Sonny Rollins Plays, Period 1204. This is an original pressing listed in VG+ condition for both the record and the cover. As most of you know, I've been collecting jazz records for more than 45 years and Rollins has always been one of my heroes. I've had a complete collection of Rollins originals for many years, with this one record as the exception. Somehow in all of these years, perusing all of these record stores, buying all of these collections, Sonny Rollins Plays on Period has eluded me and left a gap in my collection. I realize I can fill this gap through eBay, but I choose not to, at least for now. This copy is priced at $500 already and there is a bidder. I'll keep looking for a copy that is priced closer to what my sensibilities will allow. It's not the money, as per my usual, it's the principle.
Here's another one that had eluded me for many years: Hank Mobley, Mobley's Message, Prestige 7061. This is an original New York yellow label pressing that looks to be in VG++ condition for both the record and the cover. The start price is $1,000 and so far there are no bidders. I do expect this one to sell, given the personnel, the rarity of the record, the label and the condition. We'll see in a couple of days.
You don't see too many Billie Holiday records fetching high collectible prices, but this one exception: Billie Holiday, Jazz at the Philharmonic, Clef 169. This is an original 10-inch pressing listed in M- condition for both the record and the cover. Tough to find this record in this condition. Really, it is tough to find any 10-inch record in M-/M- condition these days. This one is especially regarded by collectors because of the great David Stone Martin cover. The price is more than $200, but it has yet to reach the seller's reserve. The auction closes later today.