E-Baying: Billie, Stan, Sun Ra and More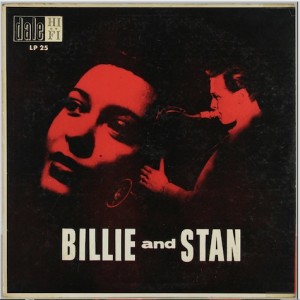 Here's a record that has always intrigued me but I have never owned: Billie Holiday and Stan Getz, Billie and Stan, Dale 25. This was an original 10-inch pressing. It looked to be in VG+ condition for the record and probably VG++ for the cover. It sold for $317.99. I know very little about Dale records. I have a couple of 10-inch LPs, but I can't think of a 12-inch LP. Based on the description of this record, it seems like it may have been a bootleg label. This was recorded from a radio broadcast from Storyville all the way back in 1951. I've never heard the record, and I've only seen it a couple of times, always at a price beyond my sensibilities. And, yes, $317.99 is still beyond my sensibilities.
Two readers separately sent me the link to this, which is listed as: Sun Ra Outtakes 1957 Acetate LP Unreleased Transition. This looks to be the real deal, music that was never issued from Sun Ra's Transition sessions, as well as sessions featuring Dave Coleman, Joe Gordon and Roy Haynes. If you're interested, you should read the entire listing for more details. The item is listed in VG condition and there are audio clips accompanying the listing as well. It is available at a buy-it-now price of $6,500 or you can make a best offer. As you all know this is not my area of interest/expertise, so if anyone would like to weigh in on this, please be our guest.
This one is in our area of interest: Curtis Fuller, New Trombone, Prestige 7107. This was an original New York yellow label listed in VG+ condition for the record and Ex for the cover. It sold for $510. The listing was very scant on the details, although there were a lot of good pictures. I think more description might have resulted in a higher price. This seller had — and still has — some nice Prestiges on eBay, including this one: Jackie McLean, Lights Out, Prestige 7035. This was an original New York yellow label listed in VG+ condition for both the record and the cover. The start price was $495 and, surprisingly, there were no bidders. If I didn't have this record, and I was inclined to pay collectible prices, I'd think that was a pretty good deal for this great record. Fortunately, my copy is in quite pristine condition.