Jackie-ing On eBay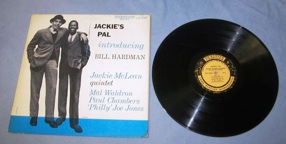 As we were catching up on items from last week, we noticed some interesting Jackie McLean records we were watching, so here comes some Jackie-ing on a lovely Monday morning in The Berkshires.
This seller had a bunch of nice records, but they were not in near-mint condition, so the prices seemed pretty reasonable, if you were willing to gamble. Here's an example: Jackie McLean, Jackie's Pal, Prestige 7068. This looked like an original New York pressing with the deep grooves and the flat edge and it was listed in VG++ condition for the cover and VG+ for the record. I could see where bidders, such as myself, might be a bit wary. The description of the cover sounded a lot more like VG+ than VG++ and the description of the vinyl used this language: "Scratches can be seen." The record sold for $260.15. Somebody took a risk. This one came from the same seller: Jackie McLean, Alto Madness, Prestige 7114. This was also  an original New York pressing and this one was listed in
VG+ condition for both the vinyl and the cover. The price was $449. In the Jazz Collector Price Guide, a copy of Jackie's Pal in M- condition recently sold for nearly $1,600 and a copy of Alto Madness, also in M- condition, sold for nearly $1,000.
This one came from a different seller: Jackie McLean, Lights Out, Prestige 7035. This was also an original pressing. The record was listed in M- condition — unplayed, apparently, until the seller played it — and the cover was listed in VG- condition. It sold for $554.55. If I were home rather than in the country, I might have considered bidding on this one. I think my copy at home has a nice cover, but a VG record. I could have swapped and mixed-and-matched, but without actually viewing my copy, $555-plus was a bit too much too gamble, don't you think?