Modern Art Treated Like Modern Art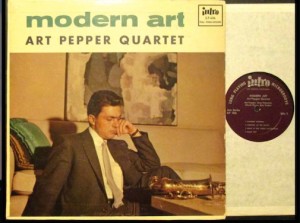 Here's an interesting one: Art Pepper, Modern Art, Intro 606. This looks to be an original pressing. The seller says it is in VG+ condition, but he also mentions that it has "many light scratches and marks." What's interesting is that the seller states the cover has been "restored" by a company called Fourth Cone Restoration in Los Angeles. This is the first time I've ever encountered a jazz record that had been professionally restored, as if it were a rare painting. Given the value of some of these records, it's really not a bad idea, is it? I'd love to somehow see the before and after, but, alas, I can't see me bidding on this record, even though I don't own an original pressing. The "many light scratches and marks" has danger written all over it. The start price for this record is in the $500 range and so far there are no bidders. One other point: The seller calls this a 1951 pressing. Is that possibly true? I didn't think they were making 12-inch vinyl in 1951, except for that one Bird promotional record on Dial.
While we're on the subject . . . .This is one of the records from The Jazz Record Center Auction: The Return of Art Pepper, Jazz West 10. This is an original pressing that is probably in VG++ condition for the record and VG+ for the cover. The auction closes tomorrow and the bidding is in the $250 range.
Jackie McLean, Lights Out, Prestige 7035. This is an original New York yellow label pressing. The record is listed in VG+ condition and the cover is VG, although the picture looks quite nice on the listing. The seller says he hasn't been able to listen to the record but that the record is "returnable" if the buyer is not satisfied with how it plays. We assume returnable is synonymous with refundable, right? The start price is $345 and so far there are no bidders.