Of Prestiges and Great Tenor Records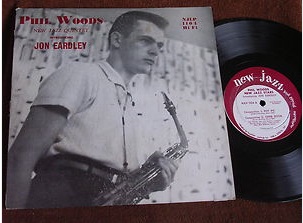 Prestige Day at Jazz Collector. This one is for a good friend who has a passion for 10-inch LPs, and for Phil Woods: Phil Woods, New Jazz Quintet, New Jazz 1104. Man, look at that cover. Phil looks like he's about 15. The record is in M- condition and the cover is VG to VG+. Start price is $250 and it's closing in four hours. No bidders so far.
Sonny Rollins, Tenor Madness, Prestige 7047. This is an original New York pressing. The record and cover were listed in VG++ condition. The bidding is in the $275 range with more than a day to go. Someone recently sent me a list of something like the 50 greatest tenor sax records ever. I quickly glanced at the list to see what was #1 (it was either Giant Steps or A Love Supreme). I looked to see where this record ranked, since it would have it in my top two or three. But it wasn't on the list. I clicked my off off the link and never looked back. I'm sure a quick Google search and someone will find it and post it here. I would have it Tenor Madness had been on the list.
This is another great tenor record I listened to recently for the first time in years:
John Coltrane, Hank Mobley, Al Cohn and Zoot Sims, Tenor Conclave, Prestige 7074. This is an original New York pressing that looks to be in VG++ condition for the record and VG+ for the cover. Start price is $99. There are no bids, and there is a reserve. Three and a half days left on the auction. Think this one is on the list. Doubt it.