On eBay: A Rare Rollins Prestige Plus Two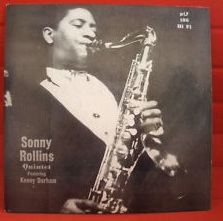 If you think the Monk Prestige cover was great, check out this one: Sonny Rollins Quintet, Prestige 186. This is an original 10-inch pressing. I'm a huge Rollins fan and I've been collecting for more than 40 years and not only do I not own a copy of this record, I've never seen it. It must be quite rare. I would love to have it, yet the price is already more than $400 and I can't bring myself to spend what it would take to win this. It's more the principle than the money: Too many years of hunting for bargains, I guess. Anyway, I will be jealous of the winner at whatever price.
There's a bunch of other interesting jazz vinyl on eBay now as well, including: Rocky Boyd, Ease It, Jazztime JT001. This is a among a nice collection listed by Round Again Records up in Providence, which I have mentioned here before as
a store definitely worth visiting. I guess the owner, Steve, must have bought a jazz collection, so congratulations. This one is M- for the record and VG+ or the cover and is already at more than $660. Like the Rollins 10-incher, it also features Kenny Dorham on trumpet. When you look at this one, you should probably look at other listings from the seller because there are a few nice collectibles.
I'll file this one under a category of "records I'm tempted to purchase because it looks so nice even though I already have a copy in nice condition:" Stan Getz Plays, Clef 137. This is the 10-inch version with the David Stone Martin cover and it is in VG++ condition for the record and M- for the cover and the picture of the cover accompanying the record looks absolutely pristine. When I first saw this last night, it was at about $30 and I was thinking I should bid because when will I see this record in this condition again. But I looked at my copy and it's certainly good enough. This one is still only $41 and there's less than two hours to go and if it goes for less than $100 it will be quite a steal. Not only a great cover, but great music as well.