On eBay: Johnny C, Seldon Powell, Clifford Brown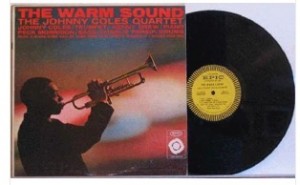 There's quite a lot of nice jazz vinyl to watch on eBay this week. So many records, so little money.
I'm always pleased to find a record I've never seen before. I've been collecting jazz records for nearly 40 years, I've been to hundreds of record stores in the U.S. and Europe, I've been on eBay quite consistently for at least six or seven years. And even still, there are records that are new to me. Here's one, on eBay now: Johnny Coles, The Warm Sound, Epic 16015. This is an original mono pressing with the yellow label. It looks to be in M- condition, based on the seller's description. The current price is $200 and there's more than two days to go.
We also have a few records for sale this week, including a few of the ones that passed through our Jazz Vinyl Countdown, such as: Seldon Powell Sextet, Roost 2220. This one is in nice VG+ condition for the vinyl and VG++ condition for the cover. Michel warned us not to sell this one and perhaps he was right. The current price is
only $49, and when we decided to put this on eBay we were hoping for considerably more than that. Oh well: You play the game, you take your chances.
Our friends at Euclid Records also have some nice vinyl up this week, including: Clifford Brown Memorial, Prestige 7055. This is an original pressing with the New York address and the yellow label. The vinyl and the cover are both listed in M- condition and the price is around $160. After you look at this you should look at the seller's other listings because there's some more there worth viewing.