On eBay Now: A Few Prestiges, Plus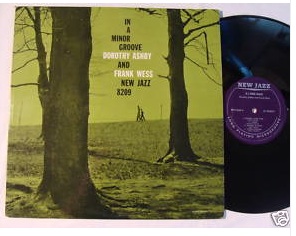 We've been spending some time cataloguing our records and making decisions about what to keep and what to sell on eBay. The result is that we're putting some interesting records on eBay that are not duplicates, but are items from our collection. This week it turns out a lot of the records we put up are from the Prestige label, including:
Dorothy Ashby and Frank Wess, In A Minor Groove, New Jazz 8209. We saw a copy of this sell for about $150 a few weeks ago and figured we'd give ours a shot.  So far this one has no bids at $30 with just a few hours to go. If it doesn't sell, we'll be happy to keep it: We were quite ambivalent about selling it in the first place.  There aren't that many jazz harp LPs to begin with, and this is a good one.
Thelonious Monk, Monk's Moods, Prestige 7159. This one is similar to the Early Miles LP we also have up on eBay now. It's an early reissue of classic music, with nice packaging and it's part of the early yellow-label Prestige catalogue. As we had mentioned last week,
we once had the goal of owning the entire catalogue of Yellow Prestiges, or at least those in the 7000 and 7100 series, but we gave up on that, thank goodness, in a rare moment of sanity. In any case, we have the earlier original pressing of this and we are hoping to sell this copy to someone looking for the music or someone still seeking the fantasy of Prestige catalogue completion. After you look at these, please take a look at our other auctions this week: We have a lot of items and many of them seem to be selling for quite reasonable prices at this stage.