Some "Perfect" Records, And Others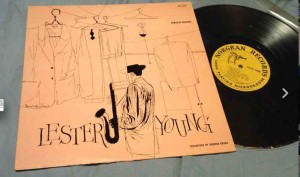 Haven't checked the old Jazz Collector mailbox lately, so let's see what some of our readers have sent us.
We can always count on our friend CeeDee for something interesting. This one came under the heading: "Prez gets a nice bid." The link is to Lester Young, Norgran 1022. This was an original yellow label pressing listed in M- condition for the record and VG+ for the beautiful David Stone Martin cover. It sold for $532, quite a nice price for an old Pres Norgran indeed. The other day I was listening to Stardust from the Lester Young and Oscar Peterson record on Norgran. His playing from this period is so sad and melancholy it almost makes me cry.
Jason sent me a link to this listing: Kenny Burrell and John Coltrane, New Jazz 8276. This was a sealed copy, which the seller insisted was an original pressing. How? He felt through the cover and, like braille, read the deep grooves. He also compared the weight to a later pressing and attested that the sealed copy was heavier. Whatever. I'd have been cautious as the seller and, in fact, I would have broken the seal and opened the record. And if it was an original, I would have put it on the turntable, played it, and stuck it where it belongs, right on my shelf within my collection. This one sold for $185.51 and, I have a feeling, may never be opened.
Judd sent me this one and I found it so ridiculous I wasn't going to post it, but, obviously have relented:
Perfect Jazz Recordings. This is an article by Richard Brody in The New Yorker from September 23. It lists 66 jazz recordings from up to approximately 1973 and before that the author defines as "perfect"based on his own subjective criteria, i.e., that to his ears, at a moment in time, these records were perfect, whatever that means. I will make just a few benign snide comments. Ahmad Jamal has more perfect records than John Coltrane or Charlie Parker; nothing from Kind of Blue; nothing by Bill Evans, Cannonball Adderley, Stan Getz, Dexter Gordon, Billie Holiday or Sarah Vaughan, to name a few. So you tell me: What's the point?