Sonny Rollins, UK Pressing, Williamsburg Bridge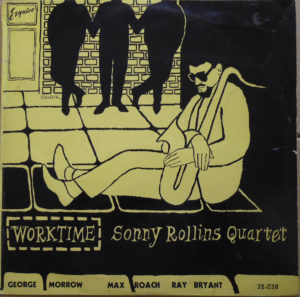 Back on eBay and here's another one of those cool UK Esquire covers: Sonny Rollins, Worktime, Esquire 32-038. This is an original UK pressing listed in Ex condition for the record and VG+ for the cover. The bidding is now in the $150 range with more than five days left on the auction. One thing that is striking me now for the first time in examining these UK listings: The seller is listing this as a 1958 pressing. Is that accurate? If so, that would be two years after the original release date in the U.S. Did our friends in the UK really have two wait two years for Worktime and/or other original Prestige recordings? Another thing; while I find the cover to be pretty cool looking, there's something a bit off about it. I guess the illustration implies getting back to work, but it does look a bit like Sonny is strung out, at least to me, which may not be the most appropriate illustration since, in my recollection, Worktime was recorded just after Sonny reportedly kicked the habit.
Speaking of Sonny, that effort to rename the Williamsburg Bridge in his honor is gaining some momentum. According to a report in Bowery Boogie, a Brooklyn Councilman has actually introduced a bill that would make this a reality, and the Brooklyn Borough President is also supportive of the idea. I will follow up on this in the next few days and see what we can all do to help move this along. I cannot describe how cool it would be to drive over the Sonny Rollins Bridge.