Sep 30, 2009 Prestige, The Great Jazz Vinyl Countdown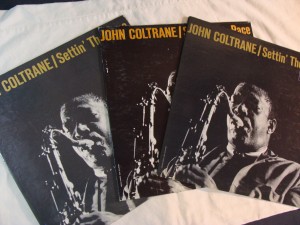 As you may expect, the whole idea of permanently and arbitrarily shrinking my record collection, which has taken close to 40 years to accumulate, is causing quite a bit of trauma around here, around here being inside my very guts. So, if you'll excuse me, I will ease into the process over the next few days before undertaking any gut-wrenching decisions. Therefore I shall start with one of my all-time favorite records: John Coltrane, Settin' the Pace, Prestige 7213. This is a great record, probably my second favorite of all the Coltrane Prestiges (right behind Soultrane). The first "Arthur Schwartz" side, with the amazing ballad "I See Your Face Before Me" and the incredible "If There Is Someone Lovelier Than You" is all-time great Trane. The challenge is not deciding whether to keep this record for a collection of 1,000 — if the collection were to be shrunk to 20 records, this would probably still make the cut. The question is merely
how many to keep and which ones. I have three copies, as you can see in the picture. Each one is a deep groove yellow label with the New Jersey address. One of the covers is slightly different than the others: The title is in orange and the Prestige lettering is knocked-out white type instead of a blue type that appears in the other copies. I prefer the blue-type covers, and believe them to be "more original" than the other, although, frankly, I had never even noted the differences in covers before. Also, the cover with the orange lettering is in worse shape than the others. All three records are in comparable VG+ condition, so one of the records is going into the orange-lettering cover and heading toward eBay. As for the other two copies?
Decision time.
Here's the first surprise on the first day of this exercise.  I'm only keeping one copy, the one in the better condition, whichever that is. Normally, with a record I love as much as this one, I'd surely have kept two: After all, I have two residences, and more than one room in each of them. But, the truth is, I also have this record on CD and on ITunes and it is portable and goes everywhere with me. When I truly want to listen closely, I will put it on my turntable. Plus, I can always hold out hope of finding a mint copy one day. Anyway, that's the decision — so, eventually, two of these three will end up on eBay. Keep an eye out for them. If you don't own this record, you should. It's a great one.
Whew. Day One done. That wasn't so bad.
Tags: Jazz Vinyl, John Coltrane