Today on eBay, Some Jug and Dizzy Reece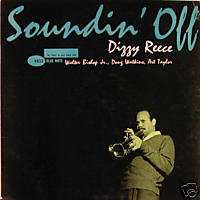 A few nice items on eBay today, including a nice bunch closing soon from our friends at Euclid Records. There may even be another one for the $1,000 club, this one: Dizzy Reece, Soundin' Off, Blue Note 4033. This is an original pressing in M- condition, both record and cover. The current price is more than $600 and there have already been 17 bids, so it's certainly within the realm of possibility that this could hit four figures. Also from Euclid and Dizzy: Dizzy Reece, Star Bright, Blue Note 4023. This is also an original pressing. The record is listed as M- and the cover is listed as VG+. The current price is in the $250 range. One more from this batch: Jammin' in Hi-Fi With Gene Ammons, Prestige 7110. This is an original pressing with the New York label. The record and cover are in M- condition. The current price is just more than $200. 
Another one we're watching at Jazz Collector is Zoot Sims, Cookin' Fontana 123. This is an original British pressing. The record looks to be VG and the cover is VG+. It's currently around $50. We've seen this sell for more than $200 in the Jazz Collector Price Guide, but those earlier copies were in better condition.