Tracking Rare Jazz Vinyl That Didn't Sell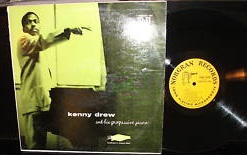 Let's catch up on a few odds and ends in the world of collectible jazz vinyl:
The Blue Notes continue to be getting top dollar, but there seems to be a drop-off in prices in the middle of the market, records that would normally sell in the $30-$150 range. I've noticed it with my own sales on eBay and I was talking with Steve at Round Again Records in Providence yesterday and he said he believes the market has fallen off by as much as 40 percent in the past couple of years. I was thinking about that when I looked at some of the records I've been watching on eBay that failed to get bids, despite what seemed to be reasonable starting prices. Here are a few:
Kenny Drew and his Progressive Piano, Norgran 1066. This was an original pressing from a reputable seller. The record was in nice condition, M-/VG++ and the cover seemed nice as well with a partial seam split. The start price was $74.99 and there were no bidders. The picture accompanying the listing wasn't great and perhaps that dampened the enthusiasm.
Ken McIntyre, Looking Ahead, New Jazz 8247. This was an original pressing with the purple labels and the deep grooves. The record and cover were in VG+ condition and the start price was $99.99. This record, which prominently features Eric
Dolphy, musically and on the cover as well, would have fetched that price, or more, in the past, but not this week. In fact, if you look at the listing this record was only viewed 16 times. Quite unusual.
We've seen this one fail to sell at two price points, much to our surprise both times: The Dual Role of Bob Brookmeyer, Prestige 7066. This is an original New York yellow label pressing and it is listed in M- condition for both the vinyl and the cover. The first time we watched this it failed to get a bid at $99 now and another seller has listed it and failed to get any action at $79.90. The second time around it got six views. How is that possible, only six views? Actually, I have a theory about that. Stay tuned for our next post.