Updates From The Jazz Record Center Auction, Part 1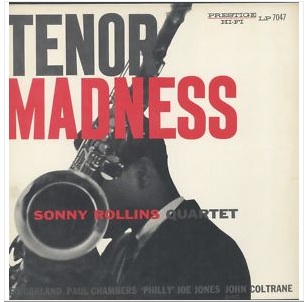 So the auction from the Jazz Record Center ended the other day and here are some of the results of items we were watching:
Sonny Rollins, Tenor Madness, Prestige 7047. This was an original pressing with the yellow label and New York address. It was listed in mint condition, not mint minus but mint, and the cover was probably M-. This one sold for $1,080. As loyal readers will know, this is one of my favorite records — really, with Coltrane and Rollins together for the only time, how could it not be a favorite — and it is a record of which I own two copies, a New York pressing in VG+ condition and a pristine New Jersey pressing. When I listen I always put on the New York pressing in VG+ condition. Why? Because it's the original and the occasional pops and clicks are part of the charm and the passion, of course.
I always keep an eye out for this because it's one of my favorite jazz collectibles, non-vinyl category: To Bird With Love. This is a book published in France by Chan Parker and Francis Paudras. It is a gorgeous book and it so obviously lives up to it's title, as it is a loving tribute to Bird, with photos, letters, contracts and just about everything you could ever imagine. I bought a copy when it first came out and it's something I've always treasured and often go back to, just to look through it and re-capture the magic of Bird: Especially with one of the Dials or Savoys on the turntable. This copy of the book was in mint condition and sold for $266.66. Someone will be quite thrilled, I'm sure.