A Boxed Set, An Autographed LP, a Mega-Rarity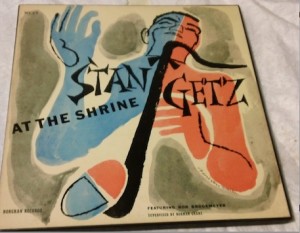 Don't see a lot of Stan Getz records in the higher price ranges, and we're seeing fewer Norgrans in there as well, so I have my eye on this one: Stan Getz at the Shrine, Norgran 2000. This is a boxed set with two LPs and a beautiful booklet and all of it looks to be in M- condition and original, with the yellow labels on the vinyl. The bidding is in the $240 range and there are more than three days left on the auction.
Here's another one you're not going to see too often: An autographed copy of Bill Evans, Portrait in Jazz, Riverside 315. The Bill Evans signature is on the back cover and it is dated from 1974. The record is an original pressing with the deep grooves and blue label and it seems to be in about VG++ condition for the vinyl and VG+ for the record. The auction closes tomorrow and the bidding is in the $150 range with 13 bids and what looks to be eight different bidders. Wouldn't mind this one myself. Hmm — birthday is coming up.
Actually, if I was really thinking birthday, my preference would be an original black label pressing of Giant Steps. I was reminded of that from this listing from our old friend bobdjukic: John Coltrane, Giant Steps, Atlantic 1311. This is a stereo pressing with the bullseye label. Of course it is listed clearly as "mega rare." Amazingly, I have never owned a black label Giant Steps. The copy I have in my collection is a bullseye stereo, similar to this one. I put it on the turntable the other day and wasn't very pleased — a combination of mediocre condition and not the greatest sound. I said to The Lovely Mrs. JC that I really should have an original Giant Steps in nice condition in my collection. I wasn't necessarily hinting at a birthday present, but come to think of it, perhaps that was a subconscious plant on my part. I'll be on the lookout on eBay and see what gets listed over the next few weeks.