A Few Non-Blue Notes; A Flat Market?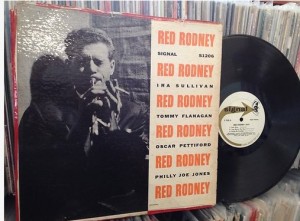 Is it just me, or is there a softness in the market these days? To expedite my posting I  sometimes do a search of jazz records for sale filtered through the highest prices first. There are often $1,000 records and many in the $500-plus category. Lately, however, the searches in that range have been coming up short. Are prices relatively flat at this point or is there just less good stuff on eBay now? These things go in cycles so I wouldn't put any meaning into it either way. In the meantime, here are some of the rare jazz records that came up on my latest search.
Red Rodney, Signal 1206. This is an interesting one because of the condition. There's a nice clear picture of the cover, which may give the impression that the cover is in nice condition. However if you look closely and read the description, the cover is in only G condition. And the vinyl is only VG. Despite the condition issues, however, the bidding is already more than $400. I guess this LP is in greater demand than I would have realized.
This is another one that's getting up there in price, somewhat to my surprise: Booker Little, Time 52011. This is an original mono pressing with the deep grooves and gatefold cover. The record is in M- condition and the cover is VG+. The bidding has already topped $250 and the auction closes later today. Perhaps my previous comment about a soft market was premature.
Blue Mitchell, Blue's Moods, Riverside 9336. This is an original stereo pressing with the black label. The record looks to be in VG++ condition and the cover is probably VG+ or slightly better. Bidding is in the $270 range and there are still more than two days to go.
Billy Bauer Plectrist, Norgran 1082. This is an original yellow label pressing. The record is listed in VG++ condition and the cover is VG. The start price is $150 and so far there are no bidder. I'll be interested to see if this sells at that start price. There's always been a kind of separate market for jazz guitar LPs — not just the jazz guys, but the guitar guys and especially the jazz guitar players. I wonder if there is still that interest in a guy like Billy Bauer and/or of there's still strong interest in Norgran as a label. Something we'll keep an eye on for the future as well.