A Monk Autograph (and More)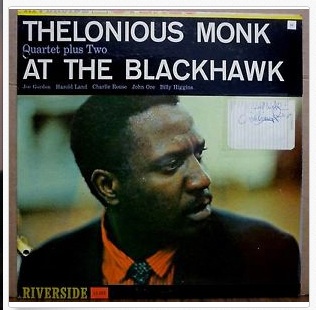 So what are some of the rare jazz records we are watching on eBay as we head into what promises to be a lovely weekend as autumn sets in here in the Northeast region of the U.S. of A.? Let's start with a little Monk: Thelonious Monk, At the Blackhawk, Riverside 323. This looks to be an original pressing with several unique characteristics. For one, it ostensibly comes from the collection of the jazz pianist Frank Strazzeri, who passed away a few months ago. More importantly, the record contains an autograph by Monk, signed on a separate piece of paper and attached to the record by scotch tape. Given the provenance you would think it would be perfectly legitimate, but not being an autograph expert, I leave that to others to debate and discuss. Don Lucky, are you out there? This one has two punch holes on the cover, and the vinyl is listed in VG++ condition by Atomic Records, which, in my experience, is one of the more reputable sellers on eBay. The current price is in the $400 range and there are more than two days left on the auction.
Speaking of Monk, there is:
The Unique Thelonious Monk, Riverside 209. This is an original white label pressing with the original photograph cover. The record is probably in the VG++ range. The seller calls it M-, but then says that the audio is Ex. Seems to me that the audio is slightly more important than the appearance of the record. The cover is listed as M-, straight-ahead with no explanations. This one has less than a day to go on the auction and is also close to $400.
Here's one that's new to me: Starring Zoot Sims, London Ducretet-Thomson D-93099. This is a 10-inch record issued in the U.K., featuring Jon Eardley and Henri Renaud. A quick Google search confirms that the record has been reissued in CD format, but what about vinyl? Can anyone tell us? This copy is in M- condition for the record and cover and has a start price of $300 with no takers, so far.