Price Updates: Roy & Diz, Tal, Stone Martin, Drew
Time to catch up on some of the items we were watching earlier in the week. We'll do another of these catch-ups tomorrow or Monday when some of the high-tagged Blue Notes close.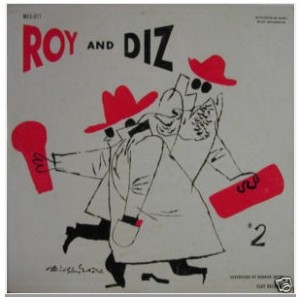 We don't often see Dizzy Gillespie among the higher-priced LPs, but here was a nice one that was sold earlier this week by Euclid records: Dizzy Gillespie and Roy Eldridge, Roy & Diz #2. This record was in M- condition, both record an cover, and sold for $145. No doubt helping the value of the LP is the great illustration by David Stone Martin.
Also featuring a David Stone Martin illustration is The Tal Farlow Album, Norgran 1047. This was also sold by Euclid and was also in M- condition. It sold for $83, not bad for a quality record like this in today's market. Seems that within the Norgran/Clef/Verve pantheon there are still bargains to be found. Also, please take a look at our earlier post on this album Today on eBay: Tal, Drew, Kenny Dorham, True Blue. I had mentioned that my good friend Dan Axelrod was a good friend and protege of Tal, and he shares some personal insight about the album that's worth reading.
Speaking of Kenny Drew, that copy of The Kenny Drew Trio, Riiverside 224, that
was being sold by Euclid, became the latest member of the $2,000 record bin. It was an original white pressing in near mint condition for both the record and the cover. It sold for $2,080.55.