Some Gems From a Gem of a Collection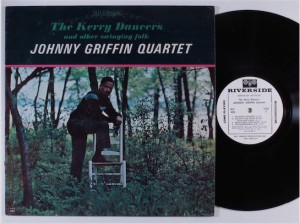 Here's a nice one: Johnny Griffin, The Kerry Dancers, Riverside 420. This looks do be an original promo pressing with the white label and the deep grooves. It is listed in M- condition for the record and VG++ for the cover. The bidding is in the $300 range with more than five days left on the auction. The seller notes that it is from the estate of the late Dr. Herb Wong, who was a pretty well known jazz historian, writer and radio host in the San Francisco Bay area. The seller, Funkyousounds, states in the listing that it has acquired Dr. Wong's entire collection. I noticed a bunch of other auctions from the estate earlier this week. Funkyousounds is based in St.Louis, so I, for one, am curious how they ended up with the collection. Funkyousounds, if you are out there, perhaps you have a story to share with us here at Jazz Collector?
One of the other ones I had noticed from the collection was this:
Red Garland Trio, Manteca, Prestige 7139. This was a yellow label with the New Jersey address, which makes it a second pressing. Manteca was one of the last of the Prestiges with the New York address. The record was in VG++ condition and the cover was VG+. It sold for $165.02, which is a high price for this record, especially a second pressing.
There was also this: The Ray Draper Quintet, New Jazz 8228. This looked to be an original pressing with the purple label and (I think) deep grooves. The record was in VG+ condition and the cover was VG++. The final price was $194.04. I've always wondered why this record wasn't more highly valued by collectors, particularly because it features John Coltrane. Any thoughts?