Rare Jazz on eBay: Sun Ra, Albert Ayler, Barney Wilen and More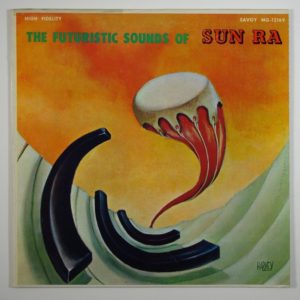 Hello from the other side of the collectible jazz spectrum — well, there presumably are as many sides as there are collectors, so perhaps the "free" realm will work for now. I've had some interesting discussions recently with commenter DG Mono (who also has his own site and runs the forum at London Jazz Collector) regarding the appeal of avant-garde jazz and the idea that hardcore collectors of mainstream modern jazz don't really get so into free music, while hardcore avant-garde collectors usually also collect Blue Notes and Prestige originals as well. Mark, another regular commenter, is an example of the latter and while my budget hits the "out" stuff first, I certainly enjoy hard bop and collect much of that music (although originals are often out of my price range). Like so many things it probably depends on the collector and nobody likes to be painted with a wide brush. It would be interesting to get fellow JC readers' thoughts on this.
But on to the goods and here are few things I've been eyeing as of late. The first one has been on my list forever and I have had copies a few times, though never in condition I was happy with. French saxophonist Barney Wilen's first entry into the avant-garde realm, recorded for Vogue in 1966, joins him with vibraphonist-pianist Karl Berger, bassist Jean-François Jenny-Clark and drummer Jacques Thollot, and was released as Zodiac. This copy was listed in NM- condition for the record and EX+ for the cover (or probably a strong VG++) and sat with no bids at $450 (or a buy it now of $650). The low feedback seller and high value item probably kept some away, myself included, but hopefully someday a crisp copy will make its way into the collection.
Here's a surprising situation, though I guess we can chalk it up to people with money who aren't necessarily condition-hounds: Albert Ayler's third LP and second for Danish Debut, Spirits, in what appears at first glance to be a presentable all around EX or VG++. However, a closer look reveals that the back cover slick with liner notes by Ole Vestergaard Jensen is missing and that would knock the grade down quite a bit for me, probably to a VG at best. No matter, it sold for a cool $680 and hopefully the buyer is happy.
From the British jazz files comes this rarity, Neil Ardley's Greek Variations and Other Aegean Exercises on EMI-Columbia's Landsdowne series, which I have on CD but was nevertheless one of a few punters that didn't quite make the high bid. It is an excellent record with a lot of sonic variety and features the pairing of Don Rendell and Ian Carr. This copy was listed in VG++ condition for the record and cover, with sound clips that in my estimation would put the record closer to M-. It's no surprise that $535 took it home.
Finally, and somewhat cheaper by comparison, was an original Savoy copy of The Futuristic Sounds of Sun Ra, a classic early 60s non-Saturn session that's actually quite difficult to find in decent shape (or any shape at all). At least, that's been my experience. This example was listed as EX for the vinyl and VG+ for the cover, with some evident clear tape issues, and closed at $260. It's easily gone for twice that according to trusty Popsike, so not a bad price at the end of the day.
As always, happy bidding and even happier listening!