The Byrds is Coming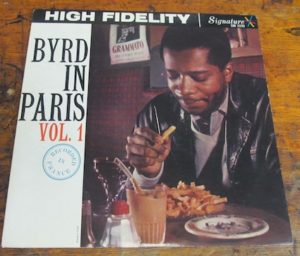 Traffic's been a little light on Jazz Collector the past few days. In retrospect, perhaps the "When Your Smilin'" headline did not quite capture the zeitgeist of what is going on around here, and around the world. In any case, I have been able to return do eBay after a few days in a dark hole, figuratively of course, and I will once again look to jazz and my records for comfort and  safety and inspiration. This is a record I was watching with interest on eBay: Donald Byrd, Byrd in Paris Volume 1, Signature 1039. For some reason I had always thought of this as a MAJOR collectible, but I guess I was wrong. This copy was listed in VG+ condition for the record and the cover and, based on the seller's more detailed description, this sounded reasonable. The record sold for $100. At first I thought the price was missing a zero, but then I went to Popsike and discovered that, while this was on the low side, it wasn't completely unreasonable. Live and learn.
Then there was this weird Donald Byrd record:
Donald Byrd, Byrd's Word, Savoy MG 12032. This was a sealed record. The seller is careful to say that it is "new sealed," and doesn't claim that it is original, which is nice, although he does say that he has reached his own conclusion but does not wish to share it. Experienced collectors will conclude that this is not a first pressing because of the way the cover sits with the white border, as well as the fact that they probably were not using shrink wrap when this record was first issued. To the community's credit, there was not a bidding war for this record, just a single bidder at $89.99, who is probably very pleased to have a sealed copy of this record regardless of its provenance and, IMHO, will probably never even open it. Then, again . . . . on eBay I once purchased a sealed copy of Herb Ellis Meets Jimmy Giuffre on Verve. I was 100% sure this was an MGM pressing based on the listing and the picture. One hundred percent. I bought it for like $20. I got it, opened it and, tada, it was an original trumpeter logo pressing. So, I guess, even when you are sure you know, you don't always know.