Tracking Obscure Jazz Vinyl on eBay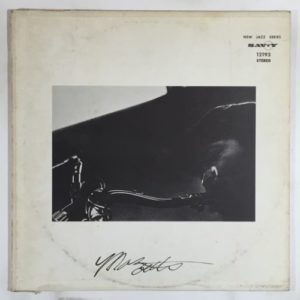 Greetings, fellow jazz collectors. It's been a while since I've popped in other than the occasional comment, I guess, though most of my buying lately has been in shops, through friends, or on Discogs. I've been lucky enough to work with a few sellers on Discogs that have been exceedingly accurate and fair, which has resulted in adding a number of nice items to the racks that I never thought I'd see. That said, a significant aspect of this site is tracking jazz vinyl on eBay from the classic era, and I'd be remiss if I didn't point out a couple of things.
As my collecting interests have generally been shifting to the other side of the pond(s) over the years, even in mainstream jazz, things like this record tend to be of interest. Moseholm directed the Radiojazzgruppen in Copenhagen, which performed weekly workshop broadcasts and occasionally toured elsewhere in Europe. The music was generally composed by members of the group and others in the local Copenhagen jazz scene – for example, trumpeters Hugh Steinmetz and Palle Mikkelborg, or reedist Sahib Shihab. This, their second LP for the Danish Debut imprint, was listed as VG for the vinyl and VG+ for the cover and one has to assume that the record itself was pretty well used (especially considering that Debut pressings aren't the highest quality). It's a very rare album in any condition and hopefully the buyer was satisfied at $350.
Speaking of Sahib Shihab, the same seller also had a copy of the reedist's excellent Debut LP, Sahib's Jazz Party, on offer. However, this was a bit of a mongrel with a Dutch Fontana cover (the original Debut had a sticker over the Fontana logo) and vinyl from a late 1960s German reissue, which was retitled Conversations. My assumption is that somebody had a nice cover with a broken or destroyed record and a coverless copy of the German pressing and mated them together. Nevertheless, with the vinyl in M- condition and the cover in VG++, the seller got a cool $710. I guess my Japanese repress will have to do.
One of my favorite US jazz records from the late 1960s is the second LP under tenor saxophonist Marzette Watts' leadership. A student of trumpeter-composer Bill Dixon, Watts was also an abstract painter and later a recording engineer for many loft-jazz sessions in the 1970s. Dixon produced The Marzette Watts Ensemble for Savoy and conducted a rendition of his "Octobersong" that starts off the LP. The rest of the album features spirited small-group playing, not too 'free,' and a gorgeous version of "Lonely Woman" with lyrics written and sung by Patty Waters. Our friend nobbyknucks had one listed in M- condition for the record and VG– for the beautiful textured cover, which netted $315.
Hopefully everyone is finding records of interest out there and, just as importantly, squirrelling away time to listen to them!