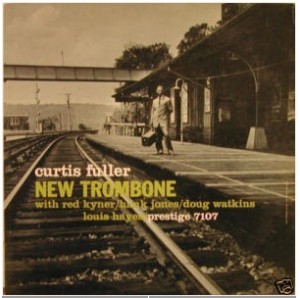 The past few days we've been catching up on some Blue Notes and some 10-inchers. Now it's time for our old friend Prestige:
Jackie McLean, Jackie's Pal, Prestige 7068. This one was in M- condition for both the record and the cover and it was another one out of the batch from Nautiluso. The price was $896. While we were there, we checked out whether there's any new feedback on this seller from the amazing collection of a few weeks ago. So far, there's nothing new to report. We'll keep looking.
Art Farmer Quintet Featuring Gigi Gryce, Prestige 7017. This was an original New York yellow-label pressing and was offered by Euclid Records. The record was VG++ and the cover was M-. The price was $203.50, which is a bit more than we've seen in the past for this record, but certainly well deserved as an early Prestige with some great artists.
Curtis Fuller, New Trombone, Prestige 7107. This was an original New York pressing, also