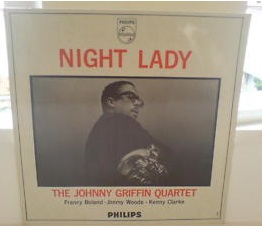 Ever think about how many jazz records are on eBay at any one time? When I was perusing the list this morning I checked it out: Today there are more than 142,000 jazz records on eBay, just 33 RPM. Of that, there are about 8,000 up for auction. Here are a few of them:
Here's a record I didn't know about: Johnny Griffin, Night Lady, Philips 48071. I should be more specific: I was aware of this record as a U.S. Emarcy pressing but, until seeing this listing, I didn't realize it was originally issued in The Netherlands. This one looks to be in very nice condition and is at about $340 with several hours left to go.
This one will be getting a nice price: Art Farmer, Farmer's Market, New Jazz 8203. This is an original pressing with the purple label. It looks to be in near mint condition and is already at more than $300 with a few more hours to go.
Here's one that's been bid up past $500 but still has not yet reached the seller's reserve price: