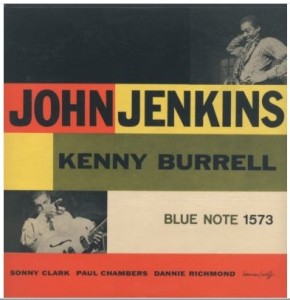 It's always interesting to watch the Jazz Record Center auctions on eBay and the latest is closing today. Here are a few of the items:
John Jenkins and Kenny Burrell, Blue Note 1573. This is an original pressing that looks to be in M- condition for both the record and the cover. The start price on this was $1,000 and there is a bid on it, so it will be sold and will enter the virtual $1,000 bin.
John Coltrane, Giant Steps, Atlantic 1311. Here's a more clear explanation of this than we've heard before. Jazz Record Center refers to this as the "pinwheels" label, although we've most often seen it described as "bulls-eye." It is described as an "original deep-groove second press," which kind of makes sense. It's still valued among collectors, even though it is not a first press. This one looks to be in M- condition for the record and the cover and is already at more than $170. Speaking of original Coltranes on Atlantic: John Coltrane and Milt Jackson, Bags and Trane, Atlantic 1368. This is an original mono pressing with the red and purple labels, although I'm still not 100 percent sure how to distinguish it as a first pressing. This one is in M- condition and so far there are no takers at $50.