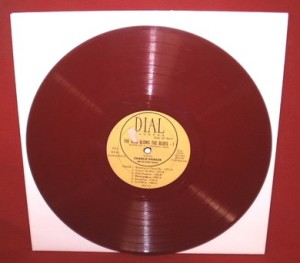 Here are some jazz vinyl auctions to watch and record (for Jazz Collector) on eBay:
Charlie Parker, The Bird Blows the Blues, Dial 901. This is quite a rare find. I'm pretty sure we've established here on Jazz Collector that this was the first 12-inch jazz LP ever released, by Ross Russell at Dial as a promo with no cover. This particular copy is on red vinyl and is listed in VG condition with lots of scratches and no skips. The auction closes in less than two days and the bidding is in the $100 range.
Jutta Hipp at the Hickory House, Volume 1, Blue Note 1515. This looks to be an original pressing with the Lexington Avenue address and deep grooves. The seller lists the record and cover in VG+ condition, but if you look at the description in the listing it really reads a lot more like VG, with visible wear and audible noise. There are more than four days left in the auction and the bidding is in the $250 range.
Seldon Powell, Roost 2205. This is an original deep groove pressing. The record is VG+ and the cover is VG. The seller has a start price of around $350 and so far there are no takers. Think it will sell? I don't. We haven't seen it sell for more than around $220 in the Jazz Collector Price Guide, and that was in better condition.