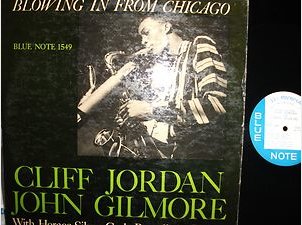 Let's catch up on some items we've been watching on eBay, starting with: Cliff Jordan, Blowing in From Chicago, Blue Note 1549. This is a deep groove pressing with two different labels: One has the New York 23, the other doesn't. What does that make this? A very early second pressing? This one is in VG++ condition for the record and probably VG+ for the cover, based on the seller's description. The auction closes in about four hours and, so far, there are no bids with a start price in the $550 range. I know the seller is a reader of Jazz Collector, so, if it doesn't sell and you want to make a trade, you know where to find me.
We thought this one would end up in the $2,000 bin, but it came up just short: Lee Morgan Sextet, Blue Note 1541. This was an original Lexington Avenue pressing in M- condition for the record and VG++ for the cover. Very nice. It sold for $1,845.
Here's another that may not sell: Sonny Rollins Plays, Period 1204. This is an original deep groove pressing. The record and the cover are both listed in VG+ condition. The start price is around $500 and so far there are no takers with four days to do.
This one did not sell and has been relisted: