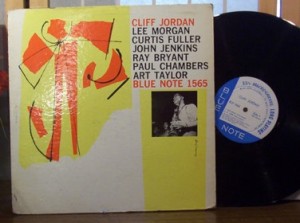 We continue our Western swing and we are now in Los Angeles where we may have time to peruse a record store or two today. Any recommendations? In the meantime, we are back on eBay and watching some jazz vinyl with great interest, seeing as how we won a few bucks in Vegas, starting with a few Blue Notes:  Cliff Jordan, Blue Note 1565. This looks to be an original West 63rd Street pressing with the New York 23 labels. The record is listed in VG++ condition and the cover is VG+. The bidding closings later today and is currently in the $400 range. Hmmm. This is a gap in my collection.
Lee Morgan, The Cooker, Blue Note 1578. This is also an original pressing and it is listed as Ex+ for the record and Ex for the cover. This one closes tomorrow and the bidding is in the $500 range. This is also a gap in my collection, but I have a feeling this one is going to go for $700-plus, too rich for my blood.
Dizzy Reece, Star Bright, Blue Note 4023. This is another original pressing. The record is in M- condition and the cover is in M- condition. The start price is about $400 and so far there are no bidders with three days to go.