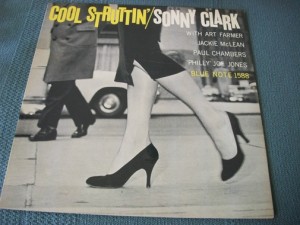 It was an interesting week on Jazz Collector following the chronicles of my purchase of the Irving Kalus collection and the subsequent comments, which are ongoing as I type this. Later in the week, when I have time, I will do an epilogue and I will also put all of the posts together in a single story, which will be downloadable as a PDF. The whole thing will probably read a bit like novel all at once. It's a marvel of our era that through the Internet we could give life to a college essay written more than 60 years ago and create a living online legacy for a man who had passed in relative obscurity, except, of course, to his beloved family and friends. I certainly feel honored and blessed to have been able to play a part in that, so the gift to me is not just Irving's records but the psychic reward of having done some good work. For all of the time and effort and money I've put into Jazz Collector for the past 10 years, this is a real nice payback.
Having said that, let's move back on the mundane business of watching collectible jazz vinyl on eBay. Here are some items of interest this week:
Sonny Clark, Cool Struttin', Blue Note 1588. Irving did not have an original pressing of this, just a blue label Liberty. However, I was fortunately able to pick up an original in a previous collection I purchased. For that whole story you'll have to wait for the Jazz Collector book, which is still a vision in my brain at this point. This original pressing of Cool Struttin' is in beautiful M- condition for the record and the cover and is currently priced at more than $2,000. Even at that price it may not sell: It has not yet reached the seller's reserve.