Posts Tagged 'Dave Brubeck'
Jan 6, 2013 Blue Note, Prestige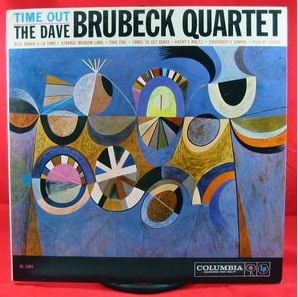 If you're on eBay now, it's hard not to watch all of those auctions closing today from the seller zero.street. There are all of the later Blue Notes I mentioned yesterday. The prices on these have gone even higher, some in the $300-plus range. How about this one: Dave Brubeck, Time Out, Columbia 1397. This is an original pressing that looks to be in quite nice condition, probably M- or VG++ at the worst. The price has been bid up to $137.50. This is not that rare a record, even as an original pressing. Is it because Brubeck just died? Or will this record achieve some new cachet as a collectible, sort of like Kind of Blue, because it is so iconic. Weird to see this one fetching collectible prices after all of these years.
This one is also of interest from the same seller: Art Farmer Quintet Featuring Gigi Gryce, Prestige 7017. This is an original New York yellow label pressing. The cover is in nice VG++ condition and the record is VG or VG+, with a hairline mark that is said to cause some surface noise. I imagine the condition is a killer on this one, because under normal circumstances I wouldn't expect it to sell for a price so far below those later Blue Notes, which apparently it will. The bidding now is in the $110 range. Unless the market is starting to shift more to the '60s from the '50s? Is that possible?
Tags: Art Farmer, Columbia Records, Dave Brubeck, Gigi Gryce
Mar 21, 2012 Features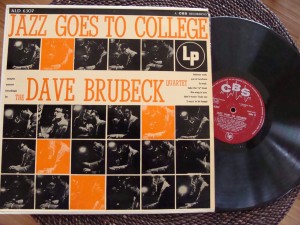 I recently picked up a batch of European — and South African — pressings of original jazz records from the '50s and '60s. Being American and a New Yorker at that, I've always had access to the U.S. pressings and, frankly, never had interest in the European pressings. I'm now listening to a Brubeck Columbia, CBS actually, with the heavy vinyl, red label, deep grooves. It has the soft cover and, now that I look at the cover, is actually from South Africa. There's a note at the bottom: "Everyday is somebody's biirthday. Give a national record gift token exchangeable anywhere in Southern Africa." I just took off the Brubeck and am now listening to Ella Sings the Duke Ellington Songbook. All of this is leading to a point and some questions. For those who follow these things closely, is there a noticeable difference in sound quality between the American and European pressings?In listening to the Ella record now, the pressing, quite frankly, sucks. Really bad. The Brubeck was much better. How do you feel about the soft covers? And for those of you who were actually buying records in the era — Rudolf? Michel? — were you content to have the European pressings, or did you focus on the U.S. pressings? Just curious. Not sure what I'm going to do with these European pressings I now own. There's something nice about having them, knowing they were issued at the same time as the U.S. versions, but I do have U.S. pressings of most of these. Oh,the challenges of being an obsessive collector. I hate to get rid of anything, even if I have it.
Tags: Dave Brubeck, Ella Fitzgerald
Jan 14, 2010 Free Collectibles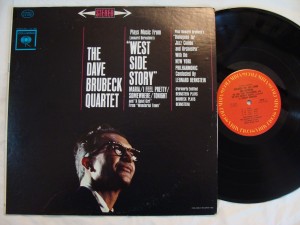 Time to complete our latest giveaway contest. As you may recall, we are giving away a copy of the following record: The Dave Brubeck Quartet Plays Music From West Side Story and Dialogues for Jazz Combo and Orchestra, Columbia 8257. This is a reissue, very nice pressing, of the album Bernstein Plays Brubeck Plays Bernstein. We offered it in recognition of Brubeck being chosen as a recent recipient of the Kennedy Center Honors. Did anyone happen to catch the broadcast? It was actually very warm and touching and the musical tribute was pretty good, featuring, among others, John Faddis, Bill Charlap and Brubeck's sons. After the tribute I asked my wife and son: "So who do you think wrote Take Five?" They looked at me like I was nuts: "Dave Brubeck, of course." It's just the way these things go, I suppose. Most people also assume Duke Ellington wrote Take The A Train. In any case, we are ready to give away this very nice Brubeck LP. As always, the criteria for the giveaway are simple: To be eligible
Dec 28, 2009 Free Collectibles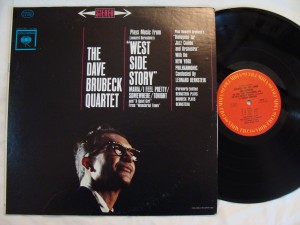 Time for our next giveaway. Here's the record: The Dave Brubeck Quartet Plays Music From West Side Story and Dialogues for Jazz Combo and Orchestra, Columbia 8257. This is a reissue, very nice pressing, of the album Bernstein Plays Brubeck Plays Bernstein. We are offering it in recognition of Brubeck being chosen as a recent recipient of the Kennedy Center Honors. The broadcast of the event will be tomorrow evening in the States, on CBS. They usually keep it a surprise as to who the performers will be, but CBS has put up a brief video on You Tube with Brubeck's four sons playing Blue Rondo A La Turk from the seminal Take Five album. We're sure it will be quite moving, especially since the actual event took place on Dec. 6, Brubeck's 89th birthday. As for the Jazz Collector giveaway:
Tags: Columbia Records, Dave Brubeck, Kennedy Center Honors, Leonard Bernstein
Oct 28, 2009 Jazz Vinyl, Jazz Vinyl on eBay, Price Guide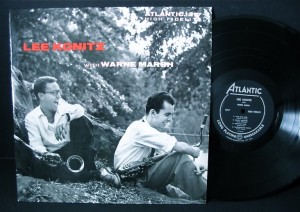 While we're catching up on adding items to the Jazz Collector Price Guide, we figured we'd share a few more odds and ends with you. This is one you don't normally expect to sell for more than $300: Lee Konitz with Warne Marsh, Atlantic 1217. This was an original black label pressing in M- condition and sold for $311. I have to give the seller a lot of credit for this one. He took an absolutely crystal-clear picture and he did a very nice job of describing the condition of the LP. It really catches your eye and makes you want the LP. Sometimes, presentation is everything.
Here's one you almost never see going for a big price: Dave Brubeck Time Out, Columbia 8192. This was one of the most popular jazz LPs ever and
Tags: Atlantic Records, Columbia Records, Dave Brubeck, Jazz Vinyl, Lee Konitz, Period Records, Promo, Sonny Rollins, Warne Marsh
Oct 16, 2009 Blue Note, Jazz Vinyl, Jazz Vinyl on eBay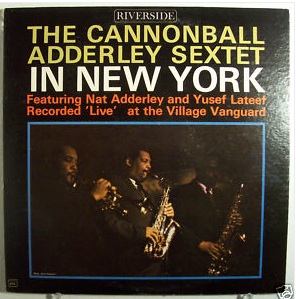 Here is some of the jazz vinyl we'll be watching this weekend on eBay.
Sonny Clark, Sonny's Crib, Blue Note 1576. This is an original pressing. The record is listed in VG+ condition and the cover is listed as VG++. Seems to be a nice copy. The current price is $385 with one more day to go.
The seller bobdjukic is back with a few items this weekend. I don't know this seller, but he seems to be a bit unpopular among some of the visitors to Jazz Collector. I've censored a few comments about him because, as I've said, I don't really want this site to be a forum to air complaints about individual buyers and sellers. But, having said that, there have been a few complaints. In any case, he seems to have some kind of magic system for getting great prices on his records and in getting high viewership. Here's one of his records this weekend: The Cannonball Adderley Sextet In New York, Riverside 404. This is a
Tags: Cannonball Adderley, Capitol Records, Columbia Records, Dave Brubeck, Miles Davis, Sonny Clark
Sep 10, 2009 News

If you were to honor one living jazz musician for his lifetime contributions to the music who would it be? To me, the answer is simple: Sonny Rollins. He is one of the all-time greats, a constant innovator, a true master. So I was a bit disappointed again this morning to see that the Kennedy Center, which honors individuals for their contributions to the American performing arts, had once again chosen not to recognize Sonny. They did choose a jazz musician this year, and a deserving one, in Dave Brubeck. But to choose Brubeck over Rollins is, to me, a real stretch. I looked up the list of prior winners and out of 168 previous honorees there were eight who could be considered jazz musicians, or at least jazz-affiliated musicians. The awards were first issued in 1978 and the honoree must be living, so that precluded such likely honorees
Sep 22, 2008 10-Inch LPs, Blue Note, Jazz Vinyl, Jazz Vinyl on eBay
Here's an update on some items we've been watching:
We had pointed out the other day that there was a copy of Sonny Clark, Cool Struttin', Blue Note 1588 that could be had for a buy-it-now price of $3,750. Shortly after that post, someone bought it for that price. We never realized we had such power. 
Here's an interesting item that raises a question: Dexter Gordon, Daddy Plays the Horn, Bethlehem 36. This was a promo copy with the record in M- condition and the cover VG. It sold for $291.56. What's interesting is that the seller notes that many of the available copies of this record have the promo stamp. Sure enough, I looked at my copy and there it was. Does anyone out there have any idea why this would be the case? If you do, please post it as a comment.
I did a post the other day on the market for Dave Brubeck collectibles. Here's one that went for a higher price than expected: Dave Brubeck, Jazz At Oberlin, Fantasy 3-11. This was an original 10-inch LP with red vinyl in nice condition. Price: $50
Another one we were watching: Charlie Parker, Dial 203. This was an original 10-inch LP in what seemed like VG+ condition. Price: $393.80
We'll be posting again later today, and we'll be putting some of our own stuff on eBay this week. Nice stuff, indeed.
Tags: Bethlehem, Charlie Parker, Dave Brubeck, Dexter Gordon, Dial, Fantasy, Sonny Clark
Sep 19, 2008 Album Covers, Jazz Vinyl, Jazz Vinyl on eBay
I'm going through all of the old Web posts and newsletters from 2004 and 2005 and updating them and putting them on the site. I ran into an item, which I'll post in a second, in which a reader asked about our Price Guides and why we didn't include any records from Dave Brubeck. The answer, basically, is that Brubeck records are not really among the most highly pursued collectibles and don't normally get top dollar. So, on eBay this week, I was caught by surprise by the price of this record: Dave Brubeck Quartet, Jazz Red, Hot and Cool, Columbia 699.  This record sold for $160.50. Apparently what makes this rare (and valuable) is that it's an original white label promo that was released as part of a joint promotion with Helena Rubenstein, promoting the lipstick worn by the model on the cover. Generally promo copies don't make all that much difference in value, but apparently this one turns this Brubeck record into a collectible of note.   As for the original correspondence about the Price Guides and Brubeck and collectibles, I'm reposting those as comments to this post. Please post your own comments if you'd like.
Tags: Columbia, Dave Brubeck, Helena Rubenstein
Sep 9, 2008 Jazz Memoirs
A Jazz Memoir By Al Perlman
Jazz was always in my life. It was my father's great love. I grew up in a tiny first-floor garden apartment in Bayside, Queens, five of us with one bathroom, a small kitchen, two bedrooms, two closets, a living room and another family living in equally cramped quarters directly above us. There wasn't much space and my mother made it even smaller by banning us from the living room. This was our "show" room to be kept in pristine condition and used only when we had guests: We weren't permitted to sit in it or talk in it or eat in it or do anything in it. My mother kept plastic on the furniture and took it off only when there was company. The one exception was when my father was home and wanted to listen to jazz. That's where he had his great big Fisher console with the hi-fi and radio. 

Read the rest of this entry »
Tags: Art Tatum, Bill Evans, Billy Eckstine, Cannonball Adderley, Dave Brubeck, Horace Silver, Jimmy Smith, Lee Morgan, Sonny Rollins
May 10, 2004 Features
I couldn't sleep again the other night so I went into my music room and started poring through the batch of 115 Downbeat and Metronome magazines I bought at the WFMU Record Show in New York last week. Most of the magazines are from the 1940s and 1950s, with a few Downbeats from the 1960s thrown in. I love these things because they give you a real view of the history of jazz as it was happening. I'm always surprised that so few people seem to be collecting the old magazines. It's okay, because the prices are always reasonable and it would be nice if they stay that way. Anyway, over the next few weeks I'll be sharing some of the interesting items I find as I go through the magazines. Here are a few snippets:

Read the rest of this entry »
Tags: Dave Brubeck, Downbeat, Duke Ellington, Jazz Quotes, Leonard Feather, Metronome, Nat Hentoff, Sonny Rollins, Thelonious Monk, WFMU Record Show