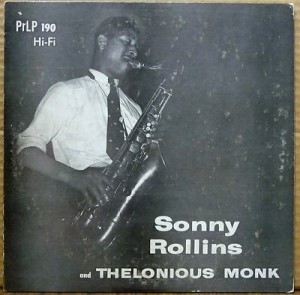 I should watch this record on Jazz Collector each time it appears on eBay, just so I can put the picture of the cover on the site: Sonny Rollins and Thelonious Monk, Prestige 190. This is an original 10-inch LP in Ex+ condition for the vinyl and VG for the cover. I would think the record plays really well to be graded Ex+. As you may tell from the longing in my first sentence I do not own a copy of this record. But I would love to. This one is in the $110 range with less than a day to go, although it hasn't yet reached the seller's reserve price.
Herbie Hancock, Takin' Off, Blue Note 84109. This looks to be an original stereo pressing in M- condition for both the record and the cover. Not sure how the stereo compares with the mono, either in sound or in collectibility, but, for me, I'm quite content to have the original mono pressing. This one closes sometime today and is in the range of about $105 with eight bids.
Eric Dolphy, Out To Lunch, Blue Note 84163. The seller does a nice job of presenting/packing this one, with the nice picture and the original inner sleeve. Makes it look attractive, wouldn't you say? This is a stereo pressing, looks like an original, with the ear, Van Gelder and New York USA label.  Bidding closes tomorrow and is already over more than $200. So, IMHO, the nice packaging seems to help.