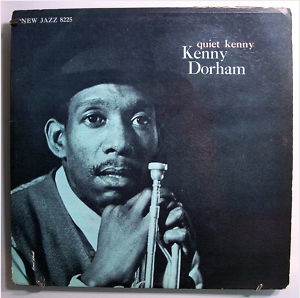 Can you stand a day without Blue Note? Let's look at some Prestige jazz vinyl we've been watching on eBay (actually, it's all New Jazz):
This was part of the recent batch sold by our old friend bobdjukic: Kenny Dorham, Quiet Kenny, New Jazz 8225. This was an original pressing. It was listed in VG++ condition for both the record and the cover, but from the pictures it was clear that the cover was not anywhere close to VG++ condition. Perhaps that affected the bidding, because this sold for the surprisingly low price of $740. If potential buyers were confident that the condition of the vinyl and cover were really VG++, it would presumably have sold for quite a bit more. The last one we had in the Jazz Collector Price Guide in VG++/VG++ condition sold for $1,225.
This one looked to be in beautiful condition and the price certainly reflected it: Eric Dolphy at the Five Spot, New Jazz 8260. This was an original purple label pressing with the deep grooves, which were not described by the seller but were apparent if you blew up the pictures. It was in M- condition all the way around and sold for $687.
This one got a nice top bid, but failed to meet the seller's reserve: